Gunda Kairi ka Chatpata Achar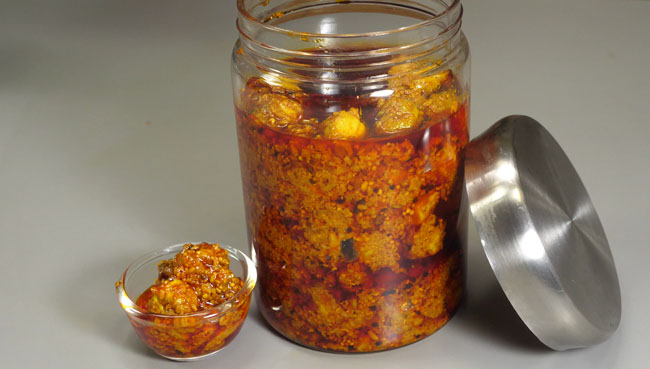 Lasode is coming into the market a lot nowadays. So today we are going to make lasode ka chatpata achar. It is very easy to make and tastes great. Once you eat it, this pickle will become one of your favourite pickles. So you too can make lasode pickle with this easy method and enjoy its taste with your family.
Ingredients for Gunda Spicy Pickle
Cordia Dichotoma - 1/2 kg
Salt - 1 tsp
Turmeric Powder - 1/2 tsp
Fennel Seeds - 4 tbsp
Fenugreek Seeds - 1 tbsp
Mustard Oil - 3/4 cup (150 gms)
Mustard Seeds - 1 tsp
Fenugreek Seeds - 1 tsp
Fennel Seeds - 1 tsp
Carom Seeds - 1 tsp
Asafoetida - 1/4 tsp
Turmeric Powder - 1 tbsp
Yellow Mustard Seeds - 4 tbsp
Raw Mango - 1 (150 gms)
Salt - 2.5 tbsp (42 gms)
Red Chilli Powder - 2 tbsp
Procedure of boiling gunda
Wash and dry ½ kg of lasode well. Then remove the stalks but leave the cap. Now heat 2-2.5 cups of water in a vessel. When it comes to a light boil, add 1 tsp of salt and 2 tsp of turmeric. Now when it boils lightly, add lasode and stir.
Cook the lasodas, stirring occasionally, till they come to a boil. Cook for 5 minutes till they become slightly soft. You have to keep checking them occasionally. When softened, turn off the flame and sift through a sieve and allow to cool.
Procedure for preparing spices for pickle
Put 4 tbsp of fennel in the pan and fry for 1-1.5 minutes while stirring constantly on low flame. Once roasted, take them out on a plate and in the same pan, fry 1 tbsp of fenugreek seeds on low flame for half a minute. Take them out with fennel and grind them after cooling lightly.
Heat ¾ cup of mustard oil in a pan. When the oil is hot, reduce the flame to medium, add 1 tsp of black mustard seeds and let it splutter lightly. After spluttering, reduce the flame to low and add 1 tsp of fenugreek seeds, 1 tsp fennel seeds and 1 tsp carom seeds.
Turn off the flame and when the oil cools down a little, add 2 tsp of asafoetida, 1 tbsp of turmeric and 4 tbsp of ground yellow mustard and mix well.
Procedure of making Gunda pickle
Now remove the cap each of the lasode and put them in the bowl. Then add oil masala, coarsely ground spices, 1 grated raw mango, 2.5 tbsp of salt and 2 tbsp of kashmiri red chilli. Mix them well, cover and keep for 1 week. Remember to stir them once a day.
After a week, the pickle will be ready. If you feel the oil is less, heat some oil and cool it and put it in the pickle. In this way gunda mango pickle will be ready. Serve it with food and enjoy the taste.
Suggestions
Put the pickle in a glass or ceramic container. Containers should be washed with hot water and dried thoroughly in the sun.
The pickle has to be dipped in oil, this makes it last longer.
You can eat this pickle all year.

Tags
Categories
Gunda Kairi ka Chatpata Achar
Nisha Madhulika
Rating:

5.00

out of

5