Andhra Mango Pickle Recipe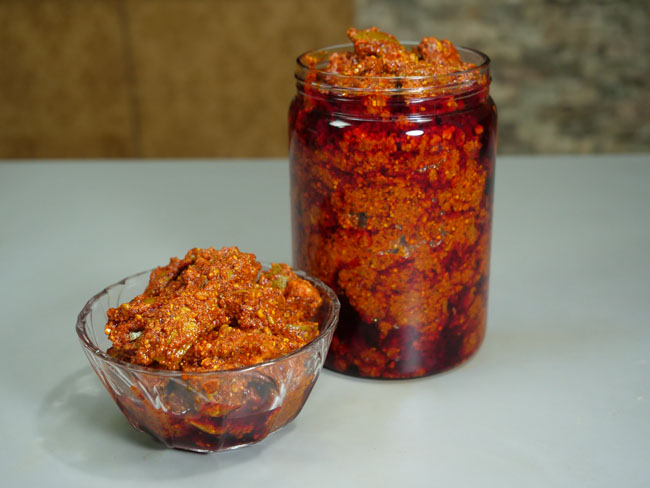 Many types of pickles are made from raw mango, and each pickle is very tasty in itself. Today we are going to make Andhra style mango pickle from this raw mango. It is very easy to make and its special pungency is very tasty. You can make it once and keep it for a year and eat it. So you can also make Andhra Style Mango Pickle in this easy way and enjoy the taste of it with your family.
Ingredients for Avakaya Pachadi
Raw Mangoes - 1 kg
Fenugreek Seeds - 2 tbsp
Mustard Seeds - 1/2 cup (100 grams)
Kashmiri Red Chilli - 100 grams
Turmeric Powder - 1 tbsp
Salt - 1/2 cup (150 grams)
Asafoetida - 1 tsp
Sesame Oil - 1.5 cups (300 ml)
Process of making Avakaya Pachadi
Wash 1 kg of raw mango thoroughly and put it in water and keep it for 10-12 hours. Then take them out of the water and let them dry for 5-6 hours. When completely dry, cut off the stalk part of them, remove their seeds and cut them into small pieces.
Now put 2 tbsp of fenugreek seeds in the pan and dry roast it on medium flame for 1 minute while stirring continuously. Then take them out on a plate and put ½ cup of mustard seeds in the same pan, fry them on medium flame while stirring continuously for 1 minute. Then take it out and cool completely.
After cooling completely put roasted mustard seeds in a mixer jar and grind them coarsely. Now put chopped raw mangoes, ground mustard seeds, roasted fenugreek seeds, 100 grams of kashmiri red chilli powder, 1 tbsp of turmeric, ½ cup of salt and 1 tsp of asafoetida in a big bowl. Mix them well.
When completely mixed, add 1.5 cups of sesame oil to it and mix it well. Then cover it and keep it for 3-4 days and it is necessary to run it once every day. After 4 days the mango pickle will be ready. Fill it in the container and keep it. Serve pickles daily with food and enjoy its taste.
Suggestions
For making pickles, every vessel should be thoroughly washed and completely dry.
Wash the container with hot water and dry it completely in the sun.
There should not be any kind of moisture in anything while making pickles.

Tags
Categories
Andhra Mango Pickle Recipe
Nisha Madhulika
Rating:

5.00

out of

5