Bel ka sharbat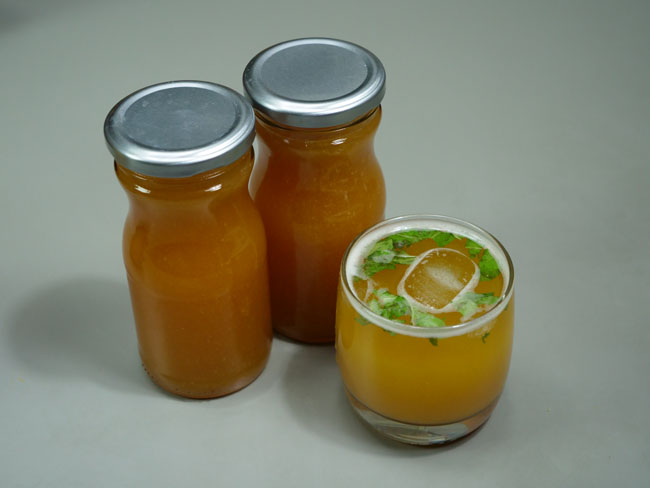 Especially for summer, today we are going to make Bael's syrup. We will make this syrup in two ways, one is the fresh juice of bael. And second, the concentrated syrup of bael, which you can keep and have for a long time. It is very easy to make and it is also very amazing in taste. So you too make this syrup with this easy method and enjoy its taste with your family.
Ingredients for Wood Apple Sharbat
For Fresh Sharbat
Wood Apple - 1
Powdered Sugar - 8 tbsp
Cumin Powder - 2 tsp
Black Salt - 2 tsp
For Concentrated Sharbat
Wood Apple - 1
Sugar - 2 cups (450 grams)
Lemon - 4
Mint Leaves
Black Salt
Cumin Powder
Process of making Fresh Sharbat
Break 1 bael and take out all its pulp in a bowl. After removing all the pulp, add 2 glasses of water to it. Mix it and mash it well, then sieve it by pressing it with a soup sieve. Take out its thick pulp in a bowl, add 1 glass of water to it, mash it back and sieve it.
Now put 8 tbsp of sugar powder, 2 tsp of roasted cumin powder and 2 tsp of black salt in the filtered juice. Mix them well and take them out in the jug. Then add 1 glass of water to it and mix it well. Now put ice and juice in the glass and serve it and enjoy its taste.
Process of making Concentrated Sharbat
Break 1 beal and take out all its pulp in a bowl. Put all the pulp and 2 glasses of water in the vessel and cook it well till it becomes soft. After cooking for 3-4 minutes, stir it once and cook it while mashing it. Cook it like this for 12 minutes and turn off the flame.
Now sieve it in a bowl by pressing it to sieve the soup. Put the filtered pulp and 2 cups of sugar in the pan and cook till the sugar dissolves. After the sugar dissolves completely, turn off the flame and let it cool down completely. When it cools down, add the juice of 4 lemons and mix it well.
In this way the concentrated syrup will be ready. Now put ice, some black salt, some roasted cumin, some mint leaves, 2 tbsp of concentrated syrup and cold water in the glass. Mix them well and serve the syrup and enjoy its taste.
Suggestions
Fill the concentrated syrup in a bottle and keep it in the fridge for 2 months.
By adding 2-3 spoons of white vinegar to the concentrated sharbat, you can keep it outside and keep it for 6 months.

Tags
Categories
Bel ka sharbat
Nisha Madhulika
Rating:

5.00

out of

5