Dahi Vada Recipe, Dahi Wada Recipe, Dahi Bada Recipe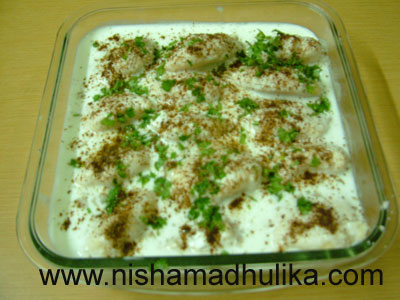 Dahi Vada is a very populer North Indian dish. It's a hit at parties, and is a part of almost every ceremony. Fresh Dahi Vada is very refreshing and easy to digest. Let us make Dahi Vadas today.
हिन्दी में पढिये : Dahi Vada Recipe
Ingredients for Wada

Dhuli urad dal -------- 250 grams or 2 cup
Dahi (yoghurt) -------- 800 grams or 8 cup
Roasted cumin powder -------- 1 tbl spoon
Red chilli powder -------- 1 tea spoon
Chat masala -------- tea spoon
Asafoetida -------- a pinch
salt -------- as required
How to prepair Dahi Wada
Dahi vadaFirst, let's wash urad dal and soak it in water for 2 hours. Drain water and grind the dal till it becomes a paste.
Keep the paste of the dal in the fridge for 2 hours. Than add salt as required and mix it well.
Heat oil in a frying pan to fry Dahi Vada.
Take a small bowl and cover it with a clean cloth. Hold the cloth from the back of the bowl such that it stretches over the mouth of the bowl. Wet the cloth with a little water. Take out some urad dal paste with the help of your finger. Put the paste on the cloth. Flatten the paste and make a round shape with the help of your fingers.
Take out the round Vada and put it in the frying pan. Fry till it becomes brown. Take out the fried Vada and keep it on a plate (You can fry 3 to 4 Dahi Vadas at a time ). Make all Dahi Vadas similarly.
Take 1 litre water, add salt and pinch of asafoetida, and heat it till it becomes warm. Put all the Dahi Vadas into the water and cover it.
After soaking them for half an hour, take out the Vadas from the water. Now sqeeze out the excess water from the Vadas by pressing with your hand. Most of the oil will get squeezed out too.
Arrange the Vadas in a tray or a shallow bowl.
Add 1/2 tea spoon of salt to thick curd. Beat well, and pour the curd mixture till it covers all the Vadas.
Sprinkle chilli powder, roasted cumin powder and chat masala on the Vadas.
Garnish with coriandar leaves and keep it refrigerated for 1/2 an hour.
Serve Dahi Vadas with sweet chuttney and green chuttney.
(Note: You can also stuff raisins and chopped cashews inside the Dahi Vadas before frying.)
Now, we will serve it with sweet chuttney and green chuttney.
इस पोस्ट को हिन्दी में पढ़ें
दही बड़ा
Lauki ka halwa | Dahi Vada Recipe, Dahi Wada Recipe Video in Hindi


Tags
Categories
Dahi Vada Recipe, Dahi Wada Recipe, Dahi Bada Recipe
Nisha Madhulika
Rating:

5.00

out of

5