Moong Dal Mangodi Recipe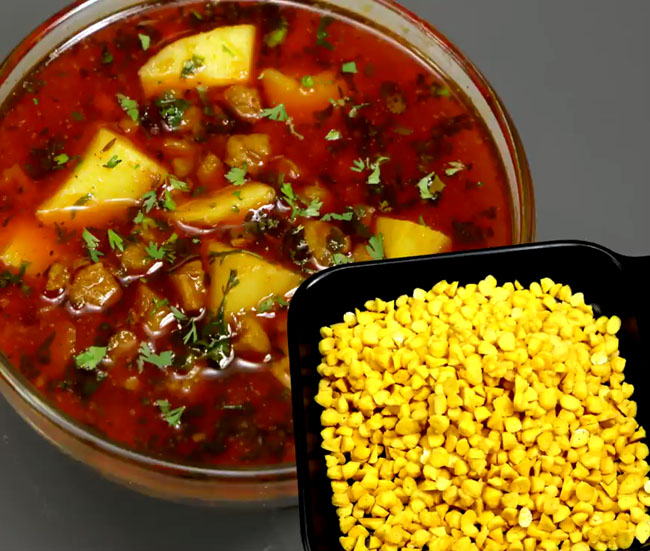 Moong dal vadis are very tasty to eat. Keeping this in mind, today we are going to make small moong dal vadis and vegetables made from them. You can store these vadis for a whole year. During the whole year, whenever you want, just prepare the masala and make the vegetable. They are very tasty and their vegetable is ready in a jiffy. So you too make moong dal vadi with this easy method and enjoy its taste.
Ingredients for Moong Dal Mangodi
Moong Dal - 200 grams
Asafoetida - 1 pinch
Moong Dal Vadi - 1/4 cup (25 grams)
Potato - 3 (175 g)
Oil - 2 tbsp
Cumin Seeds - 1/4 tsp
Asafoetida - 1/2 pinch
Turmeric Powder - 1/4 tsp
Coriander Powder - 1 tsp
Tomato - 1
Green Chilli - 1
Ginger - 1/2 inch
Red Chilli Powder - 1/2 tsp
Salt - More than 1/2 tsp
Garam Masala - Garam Masala - 1/4 tsp
Green Coriander - Coriander Leaves
Process of making the batter for Moong Dal Vadi
Wash and soak 1 cup of moong dal in water for 2 hours. Then take out its water and put it in a mixer jar and grind it lightly. After grinding, take it out in a bowl, add 1 pinch of asafoetida and a little less than ½ tsp of water in a small bowl and mix it well. Put it in the batter and beat the lentils well for 4-5 minutes. In this way the batter will be ready.
Process of making Moong Dal Vadi
Grease some plates with oil. Now take any foil or cone, fill a little batter in it and cut it a little from the bottom. Make vadis on the plate giving the shape of small balls. Fill all the plates and keep them in the sun to dry. After drying them for a whole day, keep them in any air tight container on the second day.
Process of making Moong Dal Vadi Sabji Recipe
Put 2 tbsp of ghee in the cooker and heat it. Put ¼ cup of moong dal vadis in hot ghee and fry them on medium flame, stirring continuously, till the colour changes. After roasting, take them out on a plate. Now put ¼ tsp of cumin in the cooker and fry it lightly.
Then reduce the flame to low and add ½ pinch of asafoetida, ¼ tsp of turmeric, 1 tsp of coriander powder and tomato-green chilli-ginger (1 tomato, 1 green chilli and ½ inch ginger) paste and stir the spices. Then add ½ tsp of red chilli powder and fry it while stirring occasionally till oil separates.
Meanwhile, peel and wash 3 raw potatoes and cut them into small pieces. After the spices leave the oil, add chopped potatoes and roasted moong dal vadi and fry them with spices for 1 minute. Then add 1.5 cups of water, a little more than ½ tsp of salt and ¼ tsp of garam masala. After mixing them, close the cooker and cook on high flame till one whistle.
After a whistle, reduce the flame to low and let it cook for 3-4 minutes. When the time is up, turn off the flame and let the pressure of the cooker release. Then after opening the cooker, take out the vegetable and serve it garnished with green coriander and enjoy its taste.
Suggestions
Water is not to be mixed at all while grinding lentils. If water is mixed by mistake, then a little gram flour can be added to it.
The dal batter has to be whipped well.
After drying, leave the vadis in the open room for some time, then fill in the container.
While preparing the vegetable, roast the moong dal vadi on low-medium flame till it changes colour.

Tags
Categories
Moong Dal Mangodi Recipe
Nisha Madhulika
Rating:

5.00

out of

5