Moong Dal Halwa Quick Recipe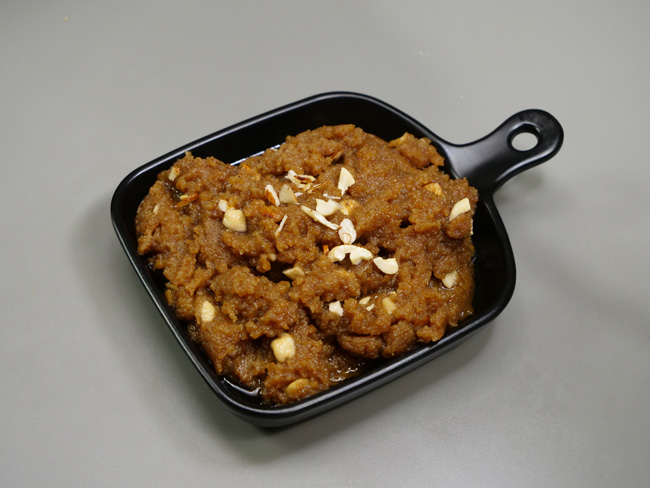 Today we are going to make Moong Dal Halwa to make it as a sweet in Holi. It is very easy to make and you can prepare it in a few minutes. Its taste will be absolutely amazing and whoever eats it once will want to eat it again and again. So you too make delicious Moong Dal Halwa with this easy recipe and enjoy its taste with your family.
Ingredients for Moong Dal Halwa
Moong Dal - ½ cup (110 grams)
Semolina - 2 tbsp (25 g)
Milk - 2 cups (½ litre)
Ghee - ½ cup (110 grams)
Almond Flakes - 2 tbsp
Cashew - 2 tbsp, chopped
Sugar - ½ cup+1 tbsp (125 g)
Cardamom - 4, coarsely crushed
Process of making Moong Dal Halwa
Wipe ½ cup of moong dal thoroughly with a damp cloth and then wipe it with a dry cloth. After wiping, put the lentils in a mixer jar and grind them coarsely. After grinding, sieve it and grind the coarse pieces that are left and mix them in the same powder.
Now put ¼ cup of ghee in the pan and melt it. Then put the ground flour in it and fry it while stirring continuously on low flame. Also, add 2 tbsp of semolina and fry it on medium flame, stirring continuously, till the colour changes and the aroma comes.
After changing the light colour, reduce the flame slightly and fry it while stirring continuously till it becomes dark. After roasting, reduce the flame to low and add 2 cups of milk and mix it. Then cover it and let it cook on low flame for 5 minutes.
Meanwhile, put ½ tsp of ghee in the tadka pan and heat it lightly. Put 2 tbsp of almond flakes and 2 tbsp of chopped cashews in hot ghee. Fry them on low flame for 1.5 minutes while stirring continuously till the aroma comes. After roasting, take them out on a plate.
Stir the halwa after 5 minutes, then add ½ cup + 1 tbsp of sugar and cook it while stirring continuously till the sugar dissolves. After the sugar dissolves, add 2-3 spoons of ghee to it and cook it on medium flame while stirring it occasionally.
After the halwa has absorbed the ghee, add 2 spoons of ghee and stir it back. Then when the halwa becomes thick, add roasted dry fruits (a little to be saved) and 4 coarsely crushed cardamom and mix it well. Add a little more ghee and stir it, it will be ready after thickening. In this way Moong Dal Halwa will be ready. Turn off the flame and serve it by garnishing with saved roasted dry fruits and enjoy the taste.
Suggestions
While grinding moong dal, keep in mind that the powder should have light coarse grains.
The flame should be low-medium while roasting moong dal.

Tags
Categories
Moong Dal Halwa Quick Recipe
Nisha Madhulika
Rating:

5.00

out of

5