Lauki Dal Cheela (Bottle Gourd Lentil Cheela )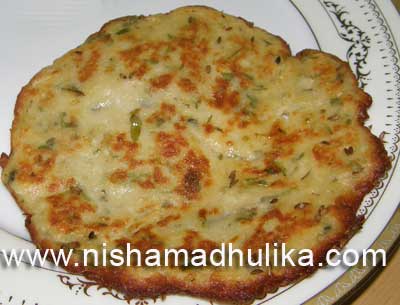 Bottle Gourd Lentil Cheela is very healthy, rich in proteins and vitamins. It is very tasty and equally popular among young and old. You can have it in breakfast, on weekends. Let's make cheela today!
इस पोस्ट को हिन्दी में पढ़ें
दाल लौकी चीला
Ingredients for Lauki Dal Cheela
Moong gram (Moong Dal) – 100 grams
Split Bengal Gram (Chana dal)– 100 grams
Black gram (Urad dal)– 50 grams
Asafetida (Hing) – 1 pinch
Bottle Gourd (Lauki)– 300 grams
Green chili – 3-4 (chopped)
Ginger (Adrak) – 2" inch piece (grate it)
Red Chili – ¼ (optional)
Salt – ¾ teaspoon (to taste)
Baking Powder – ¾ teaspoon
Oil to fry Cheela
Cumin Seeds – 2 teaspoons
How to Bottle Gourd Lentil Cheela

lauki-dal-chilaClean lentils, wash and soak in water for 5-6 hours.
Drain water from lentils and grind finely in a mixer. Keep in a bowl.
Peel bottle gourd, wash and grate. Mix lentil paste, grated bottle gourd, green chili, ginger, salt and red chili (if you like hot) and beat with a spoon. Add baking powder and beat.
Heat a nonstick karai (wok). Add 1 tablespoon oil and ¼ teaspoon cumin seeds. When cumin seeds crackle, put a small portion of lentil mix in oil. Amount of mix must be enough to make a Cheela, ½ cm thick. Cover and cook on low flame for 4-5 minutes.
Uncover and turn Cheela upside down, see if it has tuned brown and crispy. Cover and cook for another 2-3 minutes. Uncover, see if other side is also brown and crispy.
Place Cheela on a plate and cook another cheela in karai. Make all cheelas this way. You can use two nonstick karais on two gas flames at the same time to speed up cooking.
Bottle gourd lentil cheelas are ready. Serve hot cheelas with green coriander chutney. Don't forget to share your experience with us.

Tags
Categories
Lauki Dal Cheela (Bottle Gourd Lentil Cheela )
Nisha Madhulika
Rating:

5.00

out of

5