Tamarind Rice Recipe with Leftover Rice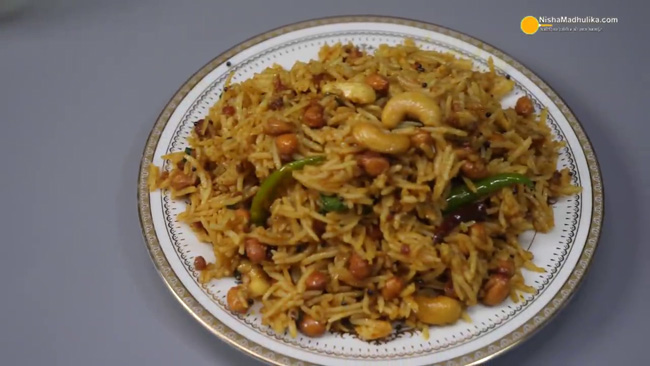 Today we are going to make sour rice with tamarind from the leftover rice. This is a special recipe from South India. They are sour and spicy in taste. These are made in many ways but there are two main ways. First, make tamarind masala and cook it by adding rice and water. And second, first cook the rice, then prepare the masala and mix the rice in it.
Ingredients for Imli Rice
Cooked Rice - 2 cups
Tamarind - 40 grams
Jaggery - 1 tbsp
Oil - 2 tbsp
Peanut - ⅓ cup
Cashews - 7-8
Split Chickpea - 1 tsp
Split Black Gram Lentils - 1 tsp
Mustard Seeds - ½ tsp
Fenugreek Seeds - ⅛ tsp
Green Chilli - 2
Red Chilli - 2
Curry Leaves - 15-20
Asafoetida - ½ pinch
Turmeric Powder - ¼ tsp
Coriander Powder - 1 tsp
Cumin Powder - ½ tsp
Red Chilli Powder - ½ tsp
Salt - a little less than ½ tsp
Process of making pulp of Imli
Break 40 grams of tamarind in a bowl, add 1 tbsp of jaggery and ½ cup of water. When the water comes to a boil, mash the tamarind well and cook it till it becomes soft. When the tamarind becomes soft, turn off the flame and cover it and let it cool down a bit.
Mash it a little more when it cools down. Then put it in a sieve and filter it and take out the pulp of tamarind. In this way tamarind pulp will be ready.
Process of making the Masala
Heat 2 tbsp of oil in a pan. Put ⅓ cup of peanuts in hot oil and fry on medium flame while stirring continuously. After the peanuts are almost roasted, add 7-8 cashews cut in half and fry them while stirring continuously. Take out the cashews when they change colour slightly.
Now put 1 tsp of chana dal and 1 tsp of urad dal in the pan and fry it lightly. Then put ½ tsp of mustard seeds and ⅛ tsp of fenugreek seeds in it. Fry them till the mustard seeds crackle, then add 2 green chilies by putting a cut in them, 3 whole red chilies cut in half, 15-20 curry leaves, ½ pinch of asafoetida, tamarind pulp and ¼ cup of water.
Mix them and add ¼ tsp of turmeric, 1 tsp of coriander powder, ½ tsp of cumin powder, ½ tsp of kashmiri red chilli powder. Now mix them and cook on low-medium flame till the oil separates from them. Add a little less than 1 tsp of salt to it and mix it well. Tamarind masala will be ready when the oil separates from the spices.
Process of making Spicy Tamarind Rice
When the oil separates from the spices, add roasted peanuts and cashews and mix it. Then turn off the flame and add 2 cups of cooked rice and mix it lightly. In this way sour rice with tamarind will be ready. Serve them and enjoy their taste.
Suggestions
After roasting the peanuts and cashews, when the spices are added one after the other, then keep the flame very low.
Tamarind Rice Recipe with Leftover Rice

Tags
Categories
Tamarind Rice Recipe with Leftover Rice
Nisha Madhulika
Rating:

5.00

out of

5