Sweet Amla Pickle, Immunity Booster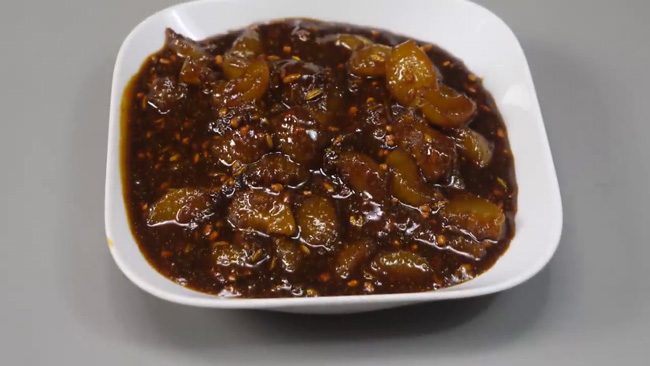 To increase immunity, today we are going to make sour sweet pickles of amla. Amla is very beneficial for health. Make it in any form you like, you will like it in every way. It will be ready very quickly with very few ingredients. So with this easy recipe, you can also make sour sweet pickles of amla and enjoy its taste with your family.
Ingredients for Amla Launji
Amla - Indian Gooseberry - 250 grams
Mustard Oil - 2 tbsp
Fenugreek Seeds - 1 tsp
Fennel Seeds - 1 tsp
Asafoetida - 1 pinch
Ginger - 1 tbsp, grated
Turmeric Powder - 1 tsp
Coriander Powder - 1 tsp
Fennel Powder - 3 tsp
Cumin Powder - ½ tsp
Red Chilli Powder - 1 tsp
Garam Masala - ½ tsp
Salt - Salt - 1 tsp
Black Salt - ¾ tsp
Jaggery - ¾ cup (150 grams)
Process of making Sweet Amla Pickle
Put 2 cups of water in the pan and let it come to a boil. When it comes to boil, put 8 gooseberries (250 grams) in water, cover and cook till it becomes soft. When they become soft, take them out of the water and keep them to cool down. When it cools down, separate each bud.
Then put 2 tbsp of mustard oil in the pan and heat it. In hot oil, add 1 tsp of whole fennel and 1 tsp of fenugreek seeds and fry lightly. Reduce the flame to low and add 1 pinch of asafoetida, 1 tbsp of grated ginger, chopped amla, 1 tsp of turmeric, 1 tsp of coriander powder, 3 tsp of fennel powder, ½ tsp of cumin powder, ½ tsp of garam masala, 1 tsp of red chilli powder, 1 tsp of salt, ¾ tsp of black salt and ¾ cup of jaggery.
Mix everything well and cook it till the jaggery melts. It has to be cooked on a low flame while stirring it for a while. After the jaggery melts, cook it till it becomes slightly thick. After it is cooked, turn off the flame and let it cool down. In this way, the gooseberry launji will be ready. Keep it for 2 days, you can eat it after two days.
Suggestions
You can eat it by keeping it in a glass container.
Remove the pickle with a clean and dry spoon.
Sweet Amla Pickle, Immunity Booster

Tags
Categories
Sweet Amla Pickle, Immunity Booster
Nisha Madhulika
Rating:

5.00

out of

5