Rava Besan Atta Masala Fluffy Poori Recipe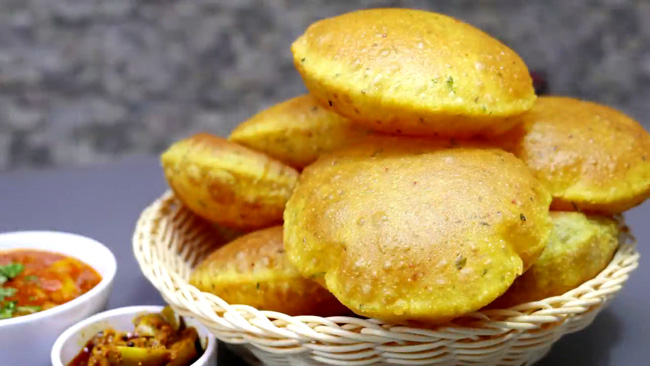 Giving a different taste to the pooris, today we are going to make Masala Puri. We will make these with semolina, gram flour and wheat flour. These masala puris are very spicy and delicious. You will want to make them once and make them again and again. You can serve them with chutney, pickle or any vegetable, as well as you can eat them like this. So with this easy method, you can also make this masala puri and enjoy its taste.
Ingredients for Masala Poori
Wheat flour - 2 cups (300 grams)
Chickpea Flour - ½ cup (100 grams)
Semolina - ½ cup (90 grams)
Salt - 1 tsp
Carom seeds - ½ tsp
Cumin seeds - ½ tsp
Turmeric Powder - ¼ tsp
Red Chilli Powder - ½ tsp
Green Coriander
Oil - 1 tbsp
Oil for frying
Process of making the Dough
In a bowl take 2 cups of wheat flour, ½ cup of gram flour, ½ cup of semolina, 1 tsp of salt, ½ tsp of carom seeds (crushed), ½ tsp of cumin, ¼ tsp of turmeric, ½ tsp of crushed red chilli, 1-2 tbsp of green coriander and 1 tbsp of oil.
Mix everything well and add little by little water and knead it as hard as you make dough for poori. After kneading, cover it and keep it for 20 minutes.
Process of making Masala Poori
Mash the dough lightly and break it into small balls. Now mash these balls and make them round like a peda. Take a ball and apply some oil on both sides and roll it. Heat oil in the pan, the oil should be hot and the flame should be high. Put the pooris in hot oil and fry them till they turn golden brown in colour from both the sides.
After frying, take out the poori and fry the rest in the same way. In this way the masala puri will be ready. Serve them with any vegetable, chutney or pickle of your choice and enjoy its taste.
Suggestions
Do not make the dough too hard and not too soft.
The puri has to be rolled evenly.
When you put the poori in the oil while frying, the oil should be hot enough.
Rava Besan Atta Masala Fluffy Poori Recipe

Tags
Categories
Rava Besan Atta Masala Fluffy Poori Recipe
Nisha Madhulika
Rating:

5.00

out of

5