Paneer Khurma Special Recipe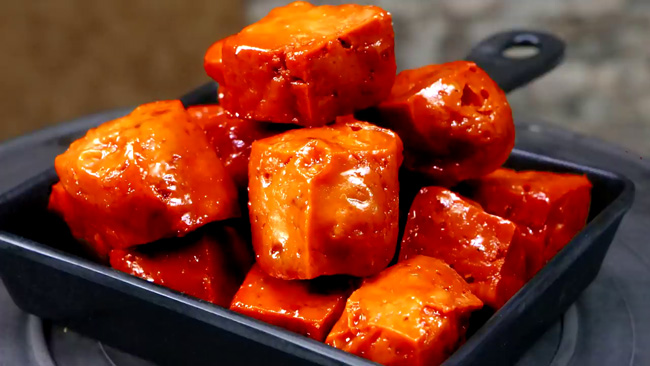 Today we are going to make Paneer Khurma special in sweets. It is also called Chhena Gojha and Belgrami. It is very tasty. Traditionally it takes a lot of time to make it. So today we will make Paneer Khurma for you with an easy method. So you too make Paneer Khurma with this easy recipe and enjoy its taste with your family.
Ingredients for Paneer Khurma
Paneer - 200 grams
Sugar - ¾ cup
Process of making Paneer Khurma
Put ¾ cup of sugar and 1.25 cup (1 cup + ½ cup) of water in the cooker and cook till the sugar dissolves in the water. Meanwhile, cut 200 grams of paneer into pieces. Then after the sugar dissolves, put the pieces of paneer one by one in the cooker.
Now close the cooker and cook it on high flame till one whistle comes. After a whistle, reduce the flame to low and cook it on low flame for 30 minutes. When the time is up, turn off the flame and open the cooker. Then cook it open till the syrup thickens.
While cooking them, keep stirring them for a while so that they do not stick to the bottom. When one wire syrup is formed, turn off the flame and cool them slightly. After cooling, filter them and separate the syrup. Then keep it in the sieve itself for 2 hours.
After completion of time, they will become hard and in this way paneer khurma will be ready. Serve them and enjoy their taste with your family.
Suggestions
Do not take paneer too soft.
While cooking paneer khurma, the flame has to be reduced after one whistle, so that the pressure keeps building up for 30 minutes, but the whistle does not come again and again.
After cooling completely, keep them in any container and keep them in the fridge.
You can keep them for 15 days and eat them.

Tags
Categories
Paneer Khurma Special Recipe
Nisha Madhulika
Rating:

5.00

out of

5