Katlambe Chole Recipe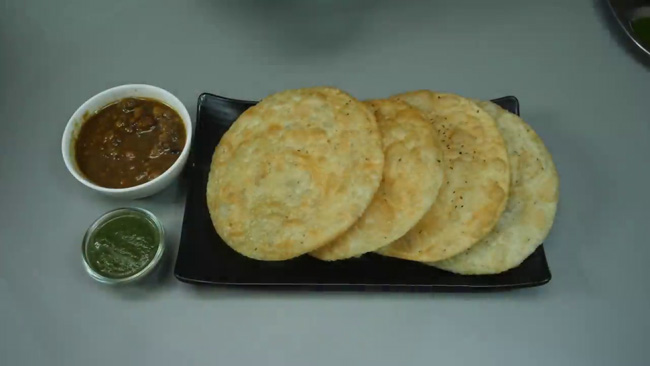 The food of Punjab is different, so today we are going to make Katlama Chole, a special traditional dish of Punjab. It is one of the few traditional dishes of Punjab. It is very easy to make and they are ready in a jiffy. So you too make katlambe chole with this easy recipe and enjoy the taste of Punjab.
Ingredients for Katlambe Recipe
Refined Flour - 2 cups (250 grams)
Salt - ½ tsp
Oil - 2 tsp
Oil for Frying
Process of making Dough
Put 2 cups (250 grams) of refined flour, ½ tsp of salt and 2 tsp of oil in a bowl and mix it well. Now add water little by little and knead a soft dough. After kneading, take some oil on hand and mash the dough for 3-4 minutes. Then keep it covered for 20 minutes.
Process of making Katlambe Plaid
Take some oil on your hand and mash the dough a little. Now break small balls of dough with the help of dry flour. Then mash a ball and make it round like a peda. Wrap the peda in dry flour and roll it out thin. Similarly prepare 7 rotis by rolling them. Put the roti first and spread it by applying some oil on it, then spread some rice flour on it. Then put some celery and cover it by placing another roti on it.
Spread some oil on this roti as well, then spread rice flour on it and cover it with the third roti. Similarly, cover the seven rotis with oil and rice flour. Cover and stick the seventh roti, then roll them by applying dry flour on both sides. Now cut long strips and spread them by applying oil.
Then roll a strip and stick the last corner. Stand the roll and put some celery on it and press it to make it like a peda, the dough of katlambe will be ready. Similarly make all the dough.
Process of frying Katlambe
Put oil in a pan and heat it, the oil should be medium hot and the flame should be medium. Roll the dough like a roti and put it in hot oil and fry it. When it floats to the top, press it lightly and fry it till it swells. Then fry it over and over till it turns golden brown. All the katlambes are to be fried in the same way. The katlambes are ready, serve them with green chutney and chickpea curry and enjoy their taste.
Suggestions
Knead the dough a little soft.
The roti has to be rolled thin.

Tags
Categories
Katlambe Chole Recipe
Nisha Madhulika
Rating:

5.00

out of

5