How to make Blossomed Rice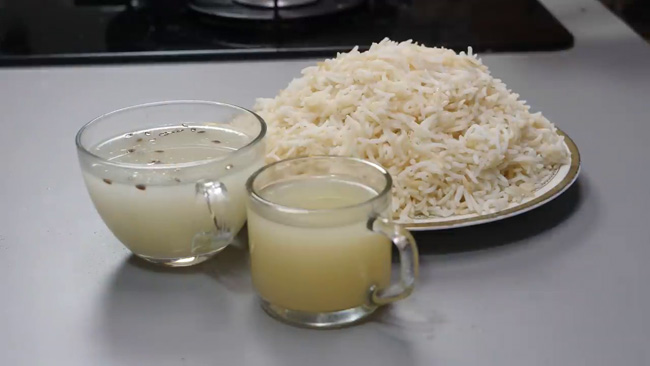 Today we are going to make cooked rice specially for weight loss and diabetes. These are very beneficial for health. It is very easy to make them and they will be ready in a jiffy. We will also tell you the method of how to serve the rice after cooking it. So you too make rice cooked with this easy method and enjoy its taste.
Process of making Blossomed Rice
Put 5 cups of water in the pan and heat it by covering it. Wash and soak 1 cup of Sela Usna rice in water for 1 hour. After the time is up, remove the water from it. When the water comes to a boil, put the rice in it and cook covered on high flame till the water boils.
When the water starts boiling, cover the rice and let them cook at low flame for 10 minutes. After the time is up, cover the rice once and let it cook for 5 minutes. After 5 minutes, stir the rice again, cover and cook for 2-3 minutes.
When the time is up, turn off the flame and sieve the rice. Put the rice in a sieve and drain the steam, then add ½ tsp of ghee to it and mix it well. Take out the rice water in a bowl.
Now put the rice water and ½ tsp of honey in the glass and serve this sweet rice water. This sweet rice water is very beneficial for babies younger than 3 months and they like it very much. Salted rice water is very beneficial for children older than 1 year or for older people. For this, put ½ tsp of ghee in a tadka pan and heat it. Put ¼ tsp of cumin seeds in hot ghee and fry it lightly and then mix it. Also, add ¼ tsp of salt to it and mix it well.
Rice cooked in this way, sweet rice water and salty rice water will be ready. Serve them and enjoy their taste.
Suggestions
You can serve rice with any vegetable or lentils or make fried rice from them.
Serve Sweet rice water to children younger than 3 months and Namkeen rice water to children or elders who are older than them.

Tags
Categories
How to make Blossomed Rice
Nisha Madhulika
Rating:

5.00

out of

5