Dhaba Style Palak Paneer Saag Recipe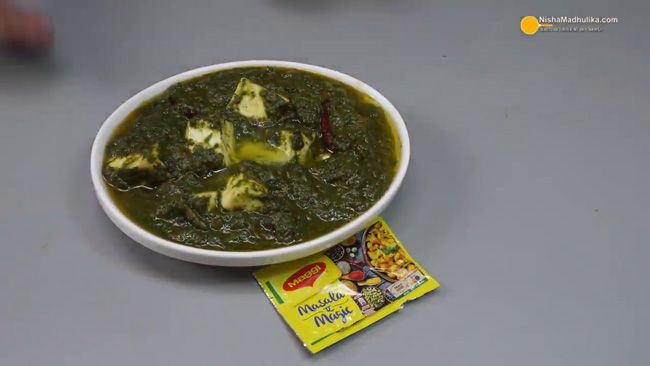 Green vegetables are very beneficial for health, but many people do not like to eat them much. Therefore, giving them a different taste, today we are going to make Palak Paneer Ka Saag. It is very easy to make and to give it a special taste, we will add Maggi Ka Masala-e-Magic to it. So make this palak paneer saag full of nutritious green vegetables and enjoy its taste with your family.
Ingredients for Palak Paneer Saag
Spinach - ½ kg
Bathua - 125 grams
Fresh Fenugreek Leaves - 125 grams
Desi Ghee - 2 tbsp
Tomato - 2, finely chopped
Green Chilli - 7 (4 finely chopped)
Ginger - 1 inch, grated
Cumin Seeds - ½ tsp
Red Chilli - 3-4, Whole
Salt - 1 tsp
Corn Flour - 1 tbsp
Paneer - 200 grams
Maggi Masala-e-Magic - 1 Sachet
Process of boiling Vegetables
Wash ½ kg of spinach, 125 grams of bathua and 125 grams of fenugreek leaves, dry them and cut them finely. Put chopped spinach, bathua, fenugreek and 1 cup of water in a pot and cover it a bit and boil it for 7-8 minutes. After the time is up, turn off the gas and cool them. When it cools down, put the vegetables in a mixer jar after removing the water. Grind them coarsely and take them out.
Process of making Masala
Put 2 tbsp of ghee in a pan and heat it. Reduce the flame to low and put ½ tsp of cumin, 3-4 whole red chilies, 3 whole green chilies, 4 finely chopped green chilies and 1 inch of grated ginger in the hot ghee. Fry the spices lightly, then add finely chopped tomatoes and 1 tsp of salt and cook it covered for 2 minutes.
When the time is up, mash the tomatoes lightly, then cover it back and cook for 2 minutes. Mash the tomatoes after 2 minutes and the masala will be ready.
Process of making Palak Paneer Saag
When the tomatoes and spices are cooked well, add ground vegetables to it. Then in a bowl, mix 1 tablespoon of corn flour with some water and make a thin batter and put it in a pan and cook on low-medium flame for 2 minutes while stirring continuously. After 2 minutes let it cook for 10 minutes.
Meanwhile, cut small portions of 1 pack of paneer of 200 grams, then after the time is up, put them in the pan and mix. Add Maggi Masala-e-Magic to it and cook for 2 minutes. Take it out when the time is up. In this way Palak Paneer Saag will be ready. Serve it with roti, paratha, naan or rice and enjoy the taste.
Suggestions
After boiling the vegetable, cool it and do not grind it finely. Just grind it coarsely and while grinding its water also has to be removed.
Dhaba Style Palak Paneer Saag Recipe

Tags
Categories
Dhaba Style Palak Paneer Saag Recipe
Nisha Madhulika
Rating:

5.00

out of

5