Instant One Pot Sambar Recipe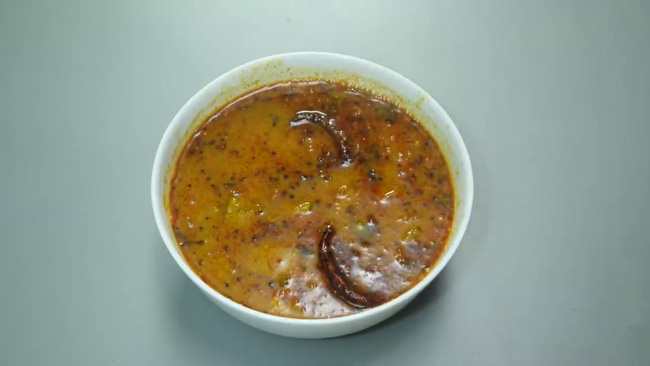 Everyone loves to eat sambar, but it takes a lot of effort and time to make it. By reducing the time and hard work, today we are going to make Sambar. It will be ready in a quick turn in the cooker. After eating it, forgetting about the outside sambar, whenever you feel like it, you will like to eat it by making it with this method. So you too make instant sambar with this easy recipe and enjoy its taste with your whole family.
Ingredients for Instant Sambar
Tuvar Dal - 2 tbsp
Bottle Gourd - 1 small piece
Pumpkin - 1 small piece
Carrot - 1 small piece
Tomato - 1
Drumstick - 1
Green Chilli - 2
Ginger - 1 tsp, grated
Turmeric Powder - ½ tsp
Salt - 1.5 tsp
Sambar Masala - 2 tbsp
Kashmiri Red Chilli - ½ tsp
Tamarind Pulp - 2 tbsp
Coriander Leaves - 1-2 tbsp
For Tadka
Oil - 1 tbsp
Mustard Seeds - ½ tsp
Fenugreek Seeds - ¼ tsp
Asafoetida - ½ pinch
Curry Leaves - 10-12
Red Chilli - 2
Kashmiri Red Chilli - 1 pinch
Process of making Vegetables and Dal ready for Sambar
Wash 2 tbsp of Arhar dal thoroughly and keep it in lukewarm water for 20-25 minutes. Meanwhile, grind 60-70 grams of gourd and pumpkin, half a carrot, 1 tomato, 2 green chilies and 1 moringa pod. Wash them well and dry them, then cut them into coarse pieces.
Also, cut 1-1.5 inch of Moonga pods and peel them by hand and remove them. Vegetables will be cut and ready and lentils will also get soaked and ready when the time is over. Now break about 1 tbsp of tamarind and soak it in hot water for half an hour.
Process of making Sambar
Add soaked lentils and 1 tbsp of water in a mixer jar and grind them coarsely. Now put coarsely ground lentils, chopped vegetables, 1.5 cups of water, ½ tsp of turmeric powder and 1.5 tsp of salt in the cooker. After mixing them, close the cooker and cook on high flame till one whistle. After a whistle, reduce the flame to low and cook for 2 minutes. When the time is up, turn off the flame and let the pressure of the cooker release.
Sieve the tamarind, if it remains a little thick, then add some hot water and filter it back and take out the pulp. Now when the pressure is released, open the cooker and add 1.5 cups of water (or as much water as you want to thin sambar), ½ tsp of kashmiri red chilli, 1 tbsp of sambar masala, 1 tsp of grated ginger and some green coriander. Mix them well and cook it open for 3-4 minutes. When the time is up, the sambar will be ready, take it out.
Process of making tadka
Heat 2 tbsp of oil in a tadka pan. Put ½ tsp of mustard seeds, ¼ tsp of fenugreek seeds, ½ pinch of asafoetida, 10-12 curry leaves, 2 whole green chillies and 1 pinch of kashmiri red chillies in hot oil. Mix them and pour the tadka on the sambar and stir it a little, the tadka sambar will be ready.
Suggestions
You can also take other vegetables instead of these vegetables.
Do not fry too much while making the tadka, otherwise the spices will get burnt.

Tags
Categories
Instant One Pot Sambar Recipe
Nisha Madhulika
Rating:

5.00

out of

5