Nutri Soya Mix Veg Instant Idli Recipe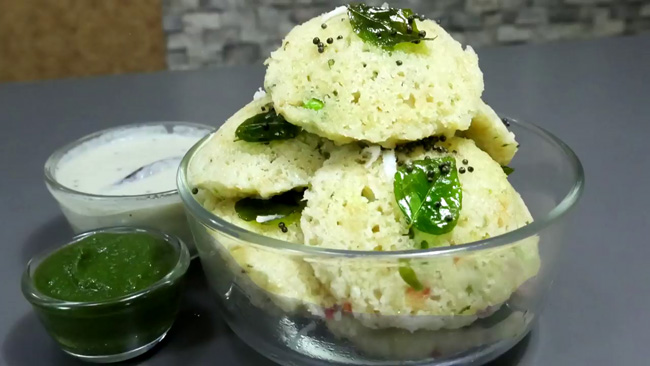 Today we are going to make Soya Vadi Mix Veg Idli by making something different from Idli. You can give it to children for breakfast or by keeping it in tiffin. It is very easy to make. All the ingredients are available in your kitchen to make Mix Veg Idli. So you too enjoy the taste of this nutritious idli by making it.
Ingredients for Soya Vadi Idli
Soya Vado - ½ cup
Semolina - 1 cup (180 grams)
Curd - 1 cup
Peas - ¼ cup
Green Coriander - 1 tbsp
Green Chilli - 2, finely chopped
Ginger - ¼ inch, grated
Oil - 1-2 tbsp
Carrot - ¼ cup
Coconut - 1-2 tbsp, grated
Curry leaves - 10-12
Black Mustard seeds - ½ tsp
Eno Fruit Salt - 1 tsp
Salt - 1 tsp
Process of making Batter
Heat 2 cups of water in a pot, when it comes to boil, turn off the gas and put ½ cup of soya vadi in it and keep it covered for 15 minutes. In a bowl take 1 cup (180 g) of semolina, 1 cup of fresh curd, ¼ cup of finely chopped carrots, ¼ cup of green peas, 2 finely chopped green chillies, ½ inch of grated ginger, 1 tbsp of coriander leaves and 1 tsp of salt. Mix them well, if needed add 1-2 tbsp of water to it. Remember to make a thick batter, cover it and keep it for 10-15 minutes.
When the soya vadi swells, sieve them, as well as squeeze out their water by pressing. Put the boiled soya vadi in a mixer jar and grind it coarsely. When the time for keeping the batter is over, add coarsely ground soya vadi and 1 tbsp of water and mix it well. Batter will be ready.
Process of making Idli
Grease the idli mould with oil. Then add 1.25 tsp of eno fruit salt to the batter and mix it well. Now pour the batter into the mould and press it with a spoon and give it the shape of idli. Put 2 cups of water in the idli maker and heat it by covering it. When it comes to boil, keep the idli stand in it. Then cover it and let it steam for 10-12 minutes on medium-high flame.
After the time is up, turn off the gas and cool them. When it cools down, keep the mould separately and cool it. When they cool down, take them out with the help of a knife.
Process of making tadka
Heat 1 tbsp of oil in a tadka pan. Reduce the flame to low and put mustard seeds in hot oil and let it crackle. When it crackles, put 10-12 curry leaves in it and turn off the flame. Sprinkle little tadka on each idli. Soya idlis are ready, serve them with green coriander chutney or coconut chutney and enjoy their taste.
Suggestions
Batter should not be too thin.
Nutri Soya Mix Veg Instant Idli Recipe

Tags
Categories
Nutri Soya Mix Veg Instant Idli Recipe
Nisha Madhulika
Rating:

5.00

out of

5