Mushroom Masala Curry Special Recipe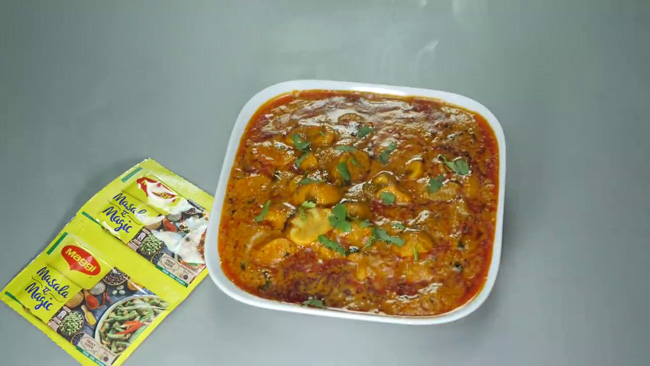 If you are tired of everyday vegetables and want to eat something spicy. Then today's recipe is perfect for you. Today we are going to make Mushroom Masala Curry. We will make it in restaurant style and you will love its taste. So you too make mushroom masala curry with this easy method and enjoy its taste.
Ingredients for Mushroom Masala Curry
Mushroom - 1 pack, 200 grams
Oil - 2-3 tbsp
Cumin Seeds - ½ tsp
Turmeric Powder - ½ tsp
Coriander Powder - 1 tsp
Dry Fenugreek - 1 tbsp
Tomato - 2 (150 g)
Green Chilli - 1
Ginger - ½ inch
Cashews - 10-11
Kashmiri Red Chilli - 1.5 tsp
Fresh Malai or Fresh Cream - ¼ cup
Salt - ¾ tsp
Coriander Leaves - 2-3 tbsp
Maggi Masala-e-Magic - 1 Sachet
Process of making Mushroom Masala Curry
Wash 200 grams of mushrooms thoroughly and take them out, do not keep them in water for long because they start swelling. Wipe them well with a cloth, then remove the stalk and cut the mushroom slices. Heat 2-3 tbsp of oil in a pan. Reduce the flame to low and put ½ tsp of cumin, ½ tsp of turmeric, 1 tsp of coriander powder and 1 tbsp of dry fenugreek (crush and remove the stalk) in the hot oil. Fry them lightly.
Then add tomato-green chilli-ginger-cashew paste (2 tomatoes, 1 green chilli, ½ inch of ginger and 10-12 cashew nuts) to it. Then after mixing them, add 1.5 tsp of kashmiri red chilli powder and fry it on low-medium flame, stirring it for a while.
After roasting, add ¼ cup of fresh cream and fry the spices till they leave the oil. Then add chopped mushrooms, ¾ tsp of salt and some green coriander to it. Mix them well and cook for 1-2 minutes, then add ½ cup of water and cover and cook for 3-4 minutes.
When the time is up, put a sachet of Maggi Masala-e-Magic in it. Mix it well and cover the vegetable and cook for 2 minutes. When the time is up, mushroom masala curry will be ready. Serve it with roti, paratha, naan or rice and enjoy the taste.
Suggestions
You can make the gravy thick or thin as per your choice.
Mushroom Masala Curry Special Recipe

Tags
Categories
Mushroom Masala Curry Special Recipe
Nisha Madhulika
Rating:

5.00

out of

5