Leftover Rice Stuffed Spicy Paratha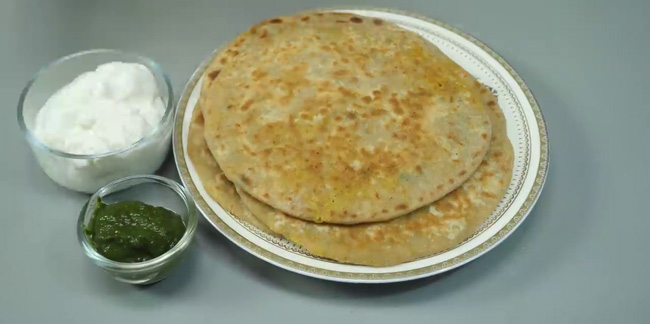 No one likes food being saved and then being wasted. That's why today we are going to make spicy parathas from leftover rice. It is very easy to make them and they look very tasty to eat. They are so delicious that next time you will want to know and save food. So you too enjoy the remaining rice by giving it a different taste.
Ingredients for Rice Paratha
For Dough
Wheat Flour - 2 cups (300 grams)
Salt - ½ tsp
Oil - 1 tsp
For Rice Stuffing
Oil - 2 tsp
Cumin Seeds - ½ tsp
Ginger - 1 tsp, finely chopped
Green Chilli - 1, finely chopped
Turmeric Powder - ¼ tsp
Coriander Powder - ½ tsp
Rice - 1 cup (left over)
Red Chilli - ¼ tsp, coarsely crushed
Dry Mango Powder - ¼ tsp
Garam Masala - ⅛ tsp
Salt - ⅓ tsp
Coriander Leaves - 1-2 tbsp
Process of making Dough
Mix 2 cups (300 grams) of wheat flour, ½ tsp of salt and 1 tsp of oil in a bowl. Now add water little by little and knead a soft dough. Knead the dough with lukewarm water during the winter season. After kneading, cover it and keep it for 20 minutes.
Process of making Stuffing
Put 2 tsp oil in a pan and heat it. Reduce the flame to low and put ½ tsp of cumin, 1 tsp of finely chopped ginger, 1 finely chopped green chilli, ¼ tsp of turmeric powder and ½ tsp of coriander powder in hot oil. Lightly fry the spices.
Then add about 1 cup of leftover rice, ¼ tsp of red chilli, ¼ tsp of dry mango powder, ⅛ tsp of garam masala and ⅓ tsp of salt. Make the flame low-medium and add 1 tbsp of water and some green coriander to it. Fry for 1-2 minutes while mixing the spices, the stuffing will be ready. Take it out on a plate and cool it.
Process of making Paratha
Take some oil on your hand and mash the dough lightly. Break as much dough as you want to make it as big or as small. Then make the dough round like a peda. Now roll it thick and small, then spread some ghee on it. Put 2-3 tsp of stuffing on it, then lift the dough from all sides and close the stuffing. Extend it by pressing it with your fingers, this will also spread the stuffing all around. Now wrap it in flour and roll it a little thick with a light hand.
Now heat the pan and spread some ghee on it. Then put the parantha on it, apply ghee on both the sides and cook it till a good brown spot appears. Paratha will be ready, make the rest in the same way. The remaining rice parathas will be ready. Serve them with raita, chutney, pickle or curd and enjoy their taste.
Suggestions
Fill the stuffing well and close the paratha.
The flame will remain medium or low-medium while cooking the parathas.
Leftover Rice Stuffed Spicy Paratha

Tags
Categories
Leftover Rice Stuffed Spicy Paratha
Nisha Madhulika
Rating:

5.00

out of

5