Homemade Schezwan Sauce Recipe without onion and garlic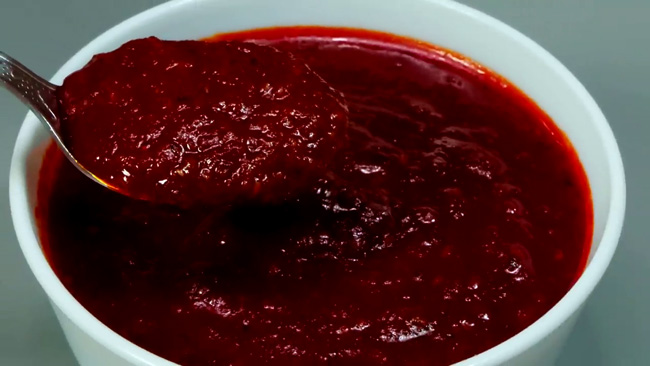 Schezwan sauce tastes great with spring rolls, momos or any other snack. Keeping this in mind, today we are going to make Schezwan Sauce. It is very easy to make and we will make this sauce without onion and garlic. Not only in snacks, this sauce is added to fried rice as well as some vegetables. Due to this, the taste of vegetables is different, so you can also make schezwan sauce with this easy method and enjoy its taste.
Ingredients for Schezwan Sauce
Kashmiri Red Chilli - 15 (15 g)
Red Chilli - 20 (5 grams)
Water - ¾ cup
Ginger - 2 inches
Oil - ¼ cup
Black Pepper - ½ tsp, coarsely ground
Oregano - ½ tsp
Coriander Stems - 2 tbsp
Salt - 1 tsp
Sugar - 2 tsp
Soya Sauce - ½ tsp
Tomato Sauce - 2 tbsp
Vinegar - 2 tbsp
Process of making Schezwan Sauce
Heat ¾ cup of water in a pot. When it comes to boil, add 15 grams of whole Kashmiri red chilli and 5 grams of whole plain red chilli and dip it well in water. Then cover them and let them soak in hot water for 20 minutes.
At the end of the time, add soaked chilies in a mixer jar (have to be put with tongs because they are very spicy), chop 2 inches of ginger and add 2 tbsp of cold water and grind it finely. Now put ½ cup of sesame oil in a pan and heat it. Add ground chilli paste, ½ tsp of crushed black pepper, 1 tsp of oregano, 2 tbsp of green coriander stalks, 1 tsp of salt and 2 tsp of sugar to the hot oil.
Fry them for 2 minutes while stirring continuously. After the oil separates from the spices, put 1 cup of water in a mixer jar and put the remaining chilli paste in the pan. Cover it and cook it for 15 minutes on low flame. Remember, you have to keep stirring a little in between.
When the time is up, add ½ tsp of soy sauce, 2 tbsp of tomato sauce and 2 tbsp of vinegar. Mix them well and cool it by turning off the flame. Take it out when it cools down and the schezwan sauce will be ready.
Suggestions
You can keep it in a container and eat it for 3-4 months.
Homemade Schezwan Sauce Recipe without onion and garlic

Tags
Categories
Homemade Schezwan Sauce Recipe without onion and garlic
Nisha Madhulika
Rating:

5.00

out of

5