Green Peas Pickle Recipe with longer Shelf Life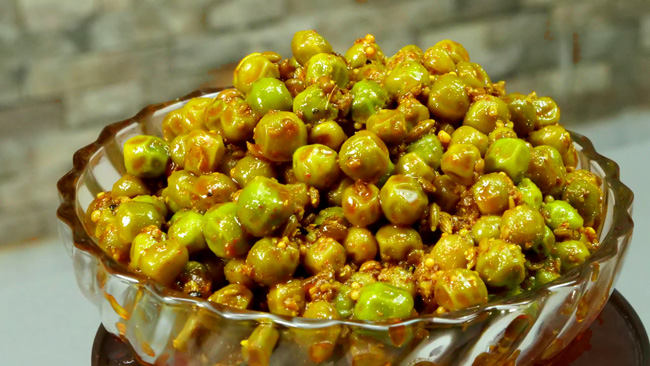 Having pickles with food gives a different taste to the food. Keeping this in mind, today we are going to make green peas pickles. It is very easy to make and the ingredients to make it are also present in your kitchen. You can make it and keep it for several days and eat it. So you also make this pickle and serve it with food and give a different taste to the family members.
Ingredients for Green Peas Pickle
Peas - a little more than 2 cups
Sugar - 1 tsp
Coriander Seeds - 1 tbsp
Fennel Seeds - 1 tbsp
Cumin Seeds - 1 tsp
Fenugreek Seeds - 1 tsp
Carom Seeds - 1 tsp
Black Pepper - 10-12
Yellow Mustard - 1 tbsp
Mustard Oil - ½ cup
Asafoetida - 1 pinch
Black Cumin Seeds - ½ tsp
Turmeric Powder - 1 tsp
Kashmiri Red Chilli Powder - 2 tsp
Salt - 2 tsp
Black Salt - 1 tsp
Vinegar - 2 tbsp
Process of making Green Peas Pickle
Take 2 cups (600-700 grams) of peas, wash them well and drain the water. Heat 3 cups of water in a vessel, when light bubbles appear in it, add 1 tsp of sugar to it. Due to this, the colour of the peas remains completely green. When the water comes to a good boil, put peas in it and cook it for 1.5 minutes, then turn off the gas.
Filter these peas and take them out. Now put some ice in cold water in a bowl, then put these peas in it and keep it for 2-3 minutes. After the time is up, filter it and let the water drain completely. Then spread a cloth on a tray and put these peas on it. Wipe them well, if you want, you can also dry them in fan air for 15-20 minutes.
Put 1 tbsp of whole coriander, 1 tbsp of fennel, 1 tsp of cumin, 1 tsp of fenugreek seeds, 1 tsp of carom seeds and 10-12 black pepper in the pan and fry for 1-1.5 minutes on low flame. After roasting, add 1 tbsp of yellow mustard and fry for 15-20 seconds. After roasting, take them out and let them cool.
After the spices cool down, grind them coarsely and keep them aside. Then put ½ cup of mustard oil in the pan and heat it till the smoke comes out. When hot, turn off the flame and let it cool down for 1 minute, after 1 minute add 1 pinch of asafoetida and ½ tsp of black cumin seeds and stir it lightly.
Put dried peas, coarsely ground roasted masala, 1 tsp of turmeric, 2 tsp of kashmiri red chilli, 2 tsp of plain salt, 1 tsp of black salt and heated oil in a bowl. Mix them well, then add 2 tbsp of white vinegar and mix it well. In this way the pickle will be ready, you can still eat it if you want. Put it in a container and keep it.
Suggestions
Wash the container with hot water and dry it in the sun and pour pickle in it.
You can keep the pickle for 6 months and eat it.
While taking out the pickle, both the hands and the spoon should be clean and dry.
Green Peas Pickle Recipe with longer Shelf Life

Tags
Categories
Green Peas Pickle Recipe with longer Shelf Life
Nisha Madhulika
Rating:

5.00

out of

5