Green Peas Makhani Curry Recipe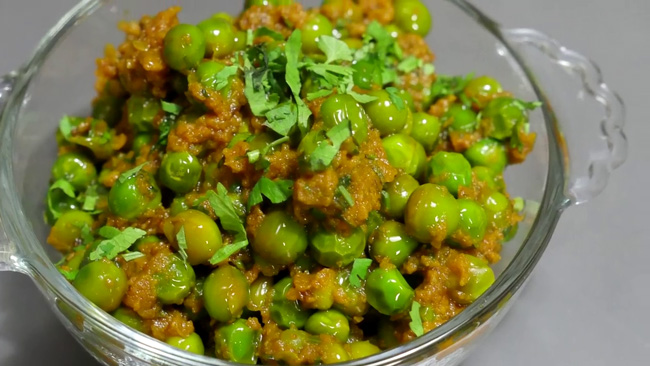 Makhani vegetable of fresh peas is very much liked in the winter season. It can be made dry and also with gravy. It is also very easy to make and it is ready in a jiffy. So you too make fresh Matar Ki Makhani with this method and enjoy its taste.
Ingredients for Green Peas Makhani
Green Peas - 1 cup
Tomato - 2
Green Chilli - 1
Ginger - ¼ inch
Oil - 2 tbsp
Cumin seeds - ¼ tsp
Asafoetida - ½ pinch
Turmeric powder - ¼ tsp
Red chilli powder - ½ tsp
Coriander powder - 1 tsp
Garam masala - ¼ tsp
Butter - 1 tbsp
Chickpea flour - 1 tbsp
Coriander leaves - 1-2 tbsp, finely chopped
Salt - ¾ tsp
Process of making Dry Green Peas Sabzi
Heat 2 tbsp of oil in a pan. Reduce the flame to low and put ¼ tsp of cumin, less than ½ pinch of asafoetida, ¼ tsp of turmeric and 1 tsp of coriander powder in hot oil. After frying the spices lightly, add tomato-green chilli-ginger (2 tomatoes, 1 green chilli and ¼ inch ginger) paste and ½ tsp of red chilli powder.
Fry the spices while stirring for a while till they leave the oil. When the spices are lightly roasted, add 1 cup of green peas and ¾ tsp of salt and mix it. Cover it and cook it on low flame for 5 minutes, when the time is up, press it and watch it. It must be getting smashed, which means the vegetable is almost done. Add ¼ tsp of garam masala to it and mix it.
Now melt 1 tbsp of butter in a tadka pan. When it melts, add 1 tbsp of gram flour and fry it while stirring continuously till it becomes light brown. When it turns golden brown, turn off the flame and add 2-3 tbsp of water and mix it. Then put roasted gram flour-water solution and 1-2 tsp of green coriander in the pan and make the flame medium. Now fry for 1-2 minutes while stirring continuously, and the dry vegetable of green peas will be ready.
Process of making Green Peas Curry
After roasting green peas and spices in the same way, fry butter and gram flour in a tadka pan till golden brown. After roasting, add water to it as per your choice of thin or thick gravy. Then add green coriander and cook for 1-2 minutes, green peas vegetable with gravy will be ready.
Suggestions
Besan does not have to be browned too much, just roast it till it becomes golden brown.
Green Peas Makhani Curry Recipe

Tags
Categories
Green Peas Makhani Curry Recipe
Nisha Madhulika
Rating:

5.00

out of

5