Baingan Fry Masala Curry Recipe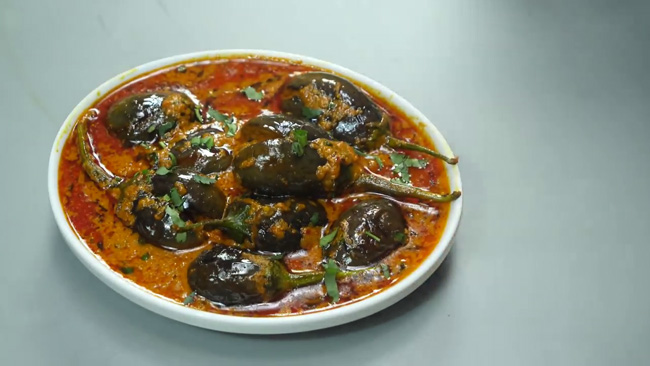 Today we are going to make Masala Brinjal Fry, apart from the boring vegetables of brinjal. We will make this vegetable without using malai or cream. Its most special ingredient will be curd. Today we will prepare this delicious vegetable with curd gravy. It is very easy to make and it will be ready in a jiffy. Even the one who does not eat brinjal will also fall in love with brinjal after tasting it once.
Ingredients for Masala Baingan Curry
Eggplant - 8 (250 grams)
Salt - ¼ tsp (for brinjal)
Oil - 3-4 tbsp
Cumin Seeds - ½ tsp
Asafoetida - ½ pinch
Dry Fenugreek Leaves - 1 tbsp
Turmeric Powder - ½ tsp
Tomato - 2
Ginger - ½ inch
Green Chilli - 1
Curd - ½ cup
Coriander Powder - 1.5 tsp
Kashmiri Red Chilli - 1 tsp
Red Chilli - ¼ tsp, coarsely crushed
Garam Masala - ¼ tsp
Salt - 1 tsp
Coriander Leaves - 2-3 tbsp
Process of cutting Baingan
Wash and dry 8 small brinjals thoroughly. Then cut a brinjal into 4 parts, do not cut the whole, leave a little attached. After making four parts from the middle, apply some salt on the inside. Keeping this, cut the rest in the same way and keep it with salt.
Process of frying Baingan
Heat 3-4 tbsp of oil in a pan. Put brinjals in hot oil and fry on medium flame. Fry them over and over till they are soft from all sides. They will be ready after frying in 3-4 minutes, take them out.
Process of making Masala Baingan Curry
Take out oil from the same pan and heat 2 tbsp oil. Put ½ tsp of cumin and ½ pinch of asafetida in hot oil and fry it lightly. After roasting, reduce the flame to low and add 1 tbsp of dry fenugreek (crush in the palm and remove the stalk), ½ tsp of turmeric and tomato-green chilli-ginger paste (2 tomatoes, 1 green chilli and ½ inch of ginger). Now fry it while stirring it for a while till it leaves the oil.
Meanwhile, put ½ cup of fresh curd, 1.5 tsp of coriander powder, 1 tsp of kashmiri red chilli, ¼ tsp of coarsely crushed red chilli and ¼ tsp of garam masala in the bowl. Mix them well, then when the oil separates from the masala, put the spiced curd in the pan. Fry it while stirring continuously till it leaves oil. Fry it on low flame for 2 minutes and fry it while stirring continuously till it leaves the oil.
When the oil separates from the spices, add 1 tsp of salt and mix it. Then add fried brinjals to it and mix it well in the gravy. Put ½ cup of water and some coriander, then cover and cook the vegetable on low-medium flame for 3-4 minutes. Masala eggplant fry will be ready when the time is over. Serve it with roti, paratha, naan or rice and enjoy the taste.
Suggestions
You can make the gravy thin or thick as per your choice.
Baingan Fry Masala Curry Recipe

Tags
Categories
Baingan Fry Masala Curry Recipe
Nisha Madhulika
Rating:

5.00

out of

5