Red-Green Chilli Pickle with Longer Shelf Life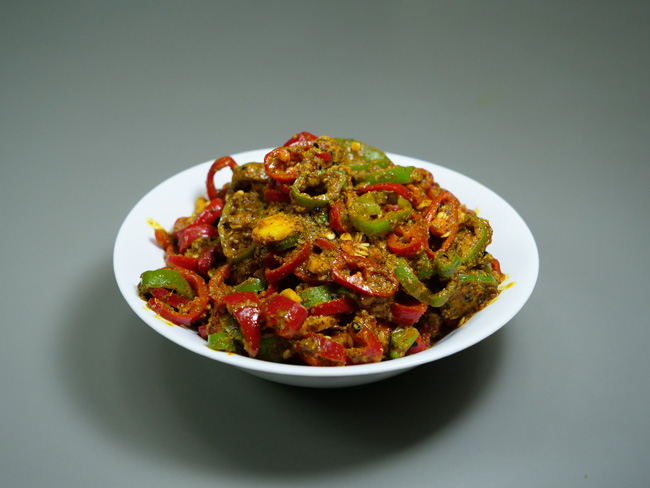 Today we are going to make pickles of red and green chillies with shelf life of more than one year. It is very easy to make and it is ready in a jiffy. We will make it by mixing chilli and ginger. We will prepare this pickle in such a way that the chillies will last for a long time. So you too make pickles of thick red and green chilies with this easy method and enjoy its taste.
Ingredients for Green and Red Chilli Mixed Pickle
Green & Red Chilli - 300 grams
Salt - 1 tsp
Ginger - 3 (60 grams)
Fennel Seeds - 2 tbsp
Fenugreek Seeds - 1 tsp
Carom Seeds - 1 tsp
Black Mustard Seeds - 2 tbsp
Turmeric Powder - 1 tsp
Kashmiri Red Chilli - 1 tsp
Salt - 1.5 tsp
Fennel Flower - ½ tsp
Asafoetida - ¼ tsp
Mustard Oil - ⅓ cup (4 tbsp)
Lemon Juice - 1 tbsp
White Vinegar - 1 tbsp
Process of making Green and Red Chilli Mixed Pickle
Wash 11 red and green thick chilies thoroughly and dry them in the sun. Cut them into small pieces and keep them in a bowl. Now sprinkle 1 tsp of salt on all the chillies and cover it and keep it in the sun for 1 hour.
When the time is up, the water will have separated from the chillies, put them in a sieve and drain all the water from them. Leave them in the sieve for some time. Meanwhile, peel 3 pieces (60 grams) of ginger, wash it well and cut it into small pieces.
Now heat the pan lightly and add 2 tbsp of fennel seeds, 1 tsp of fenugreek seeds and 1 tsp of carom seeds to it. After frying them for 1 minute, add 2 tbsp of black mustard and fry them for 10-15 seconds and turn off the flame. After stirring the spices in the pan for some time, take them out on a plate and cool them. Then put them in a mixer jar and grind them coarsely.
Now heat ⅓ cup of mustard oil in a pan till the smoke rises. Then turn off the flame and cool the oil. When it cools down slightly, add 1 tsp of turmeric, ½ tsp of kalonji and ¼ tsp of asafoetida. Mix them and let them fry in lightly hot oil.
Put chilli, chopped ginger, 1.5 tsp of salt, coarsely ground spices, 1 tsp of kashmiri red chilli powder and oil mixed with spices in a bowl. Mix them well and add 1 tbsp of lemon juice and 1 tbsp of white vinegar and mix it well.
Keep the pickle covered in a bowl for 3 days. After 3 days the pickle will be ready, store it in any glass container and enjoy its taste.
Suggestions
The utensils to make pickles and the glass container should be thoroughly washed and completely dry.
The glass container should be washed with hot water and dried in the sun.
When taking out the pickle for eating, both the spoon and the hands should be clean and dry.
Red-Green Chilli Pickle with Longer Shelf Life

Tags
Categories
Red-Green Chilli Pickle with Longer Shelf Life
Nisha Madhulika
Rating:

5.00

out of

5