Honey Amla Dry Candy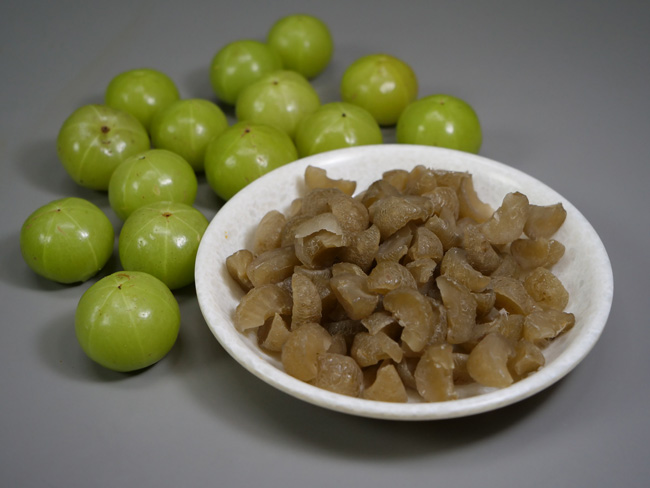 To increase immunity, today we are going to make honey amla candy. It is very easy to make. It is very beneficial for health and is also very good in taste. We will make it without sugar or jaggery syrup. So you too make honey amla candy with this easy method and enjoy its taste with your family.
Ingredients for Honey Amla Candy
Amla - 1.5 kg
Honey - 300 grams
Process of making Honey Amla Candy
Put 2-3 cups of water in the pan, cover it and boil it till the water comes to a boil. When the water comes to a boil, put a sieve on the pan, put 15 kg of amla on it, cover it and let it cook for 10-12 minutes. If the lid starts bouncing, then cook it by reducing the flame, remember that steam should continue to form in the water.
After the time is up, turn off the flame and take them off and cool them a bit. When it cools down slightly, make two holes in each amla bud with a forked knife. After making a hole in all the amlas, press the amla lightly from above and separate each bud from it.
After separating all the buds, put them in a container. Now put 300 grams of honey in it and cover it and keep it immersed in honey for 3 days. Remember, it is necessary to open and run them once every day. On the fourth day, separate the amla bud and juice with a sieve.
You can drink this amla-honey juice by mixing it in hot water in winter and by mixing it in cold water in summer. After squeezing out all the juice, spread the amla bud in a plate or tray and dry it for 3-4 days either under sunlight or fan. Remember, keep them covered with a thin cloth or sieve.
When the time is up, honey amla candy will be ready. Serve them and enjoy their taste.
Suggestions
Do not dry the amla candies too much, just they should shrink and not feel wet on touch.
When it cools down completely, you can store it in a container and eat it for 6 months.

Tags
Categories
Honey Amla Dry Candy
Nisha Madhulika
Rating:

5.00

out of

5