Street Style Veg Chowmein Recipe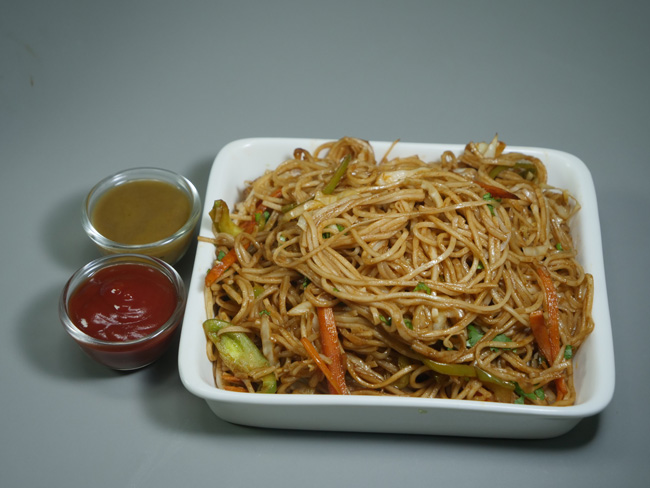 Today we are going to make Veg Chowmein special for children. With a very easy method, it will be ready in a jiffy. You will love this spicy chowmein filled with the taste of vegetables and sauces. We will make it in the street food style. So you too make Veg Chowmein with this easy recipe and enjoy its taste with your family.
Ingredients for Veg Chowmein
Capsicum - 1
Cabbage - ½
Carrot - 1
Salt - 1 tsp
Oil - 1 tsp
Noodles - 250 grams
Oil - 2 tsp
Oil - 2 tbsp
Ginger - 1 inch, chopped
Green Chilli - 1, finely chopped
Green Chilli Sauce - 1 tbsp
Red Chilli Sauce - 1 tbsp
White Vinegar - 1 tbsp
Dark Soy Sauce - 2 tbsp
Tomato Sauce - 2 tbsp
Salt - ½ tsp
Process of making Veg Chowmein
Boil 1-1.25 litres of water in the pot. Meanwhile, thinly slice 1 capsicum, cabbage and 1 carrot. When the water comes to a boil, add 1 tsp of salt and 1 tsp of oil and mix it. Then put 250 grams of noodles in it and let it boil for 5-6 minutes. Remember, you have to keep stirring it once in a while.
When the time is up, turn off the flame and put it in a sieve and drain the water. When the water separates, put the sieve on another bowl, pour cold water into the noodles and cool it by turning it slightly. Then put the noodles in the air, add some oil and mix it and let it cool down.
When the noodles cool down, put 2 tbsp of oil in the pan and spread it in a pan and heat it. Put 1 inch of finely chopped ginger and 1 finely chopped green chilli in hot oil and fry it lightly. When they are lightly roasted, add chopped vegetables and fry them for 1 minute on high flame.
After frying for 1 minute, add 1 tbsp of green chilli sauce, 1 tbsp of red chilli sauce, 1 tbsp of white vinegar, 2 tbsp of soy sauce and 2 tbsp of tomato sauce. Now stir fry them for 1 minute.
When the time is up, add noodles and ½ tsp of salt and cook them by mixing them lightly. Once mixed, Veg Chowmein will be ready. Take it out and serve it and enjoy its taste.
Suggestions
When the water comes to a good boil, put the noodles to boil.
Noodles have to be boiled for 5-6 minutes only. And after boiling it, filter it and pour cold water on it to prevent it from overcooking.
Before frying chowmein, all preparations have to be done because they have to be cooked on high flame.
Street Style Veg Chowmein Recipe

Tags
Categories
Street Style Veg Chowmein Recipe
Nisha Madhulika
Rating:

5.00

out of

5