How to make Purvanchal Special Palak Sakoda Chaat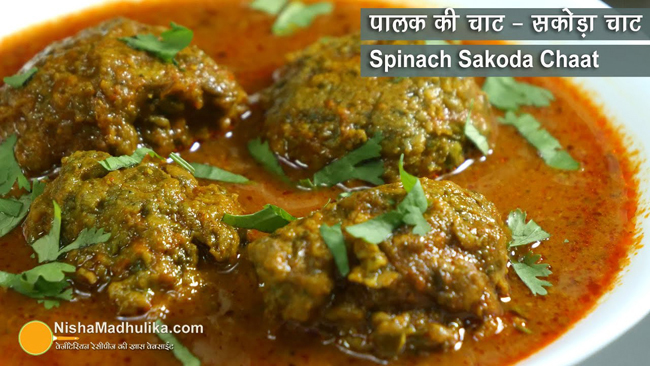 Sakoda chaat is very famous in Purvanchal, it is counted in the spicy street food there. This chaat is served in earthen pots in Purvanchal, hence it is called Sakoda Chaat. It is so delicious that even those who do not like spicy food will also like it very much.
Ingredients for Sakoda Chaat
For Pakoda
Spinach - 250 grams
Gram Flour - 1 cup
Green Chilli - 2 finely chopped
Salt - ½ tsp
Coriander powder - ½ tsp
Red Chilli Powder - ½ tsp
Turmeric - ¼ tsp
Garam masala - ¼ tsp
For Gravy
Black Pepper - 15
Clove - 4
Large Cardamom - 1
Cardamom - 2
Cinnamon - ½
Nutmeg - 1
Tomato - 2
Green Chilli - 1
Ginger - ½ inch
Oil - 2 tbsp
Cumin - ½ tsp
Asafoetida - 1 pinch
Turmeric - ½ tsp
Coriander powder - 1.5 tsp
Red Chilli Powder - 1.5 tsp
Gram Flour - 1 tsp
Water - 2 cups
Salt - 1 tsp
Amchur Powder - ½ tsp
Process of making batter for Palak Pakoras
Remove the thick stems of 250 grams of spinach, wash it well and cut it finely. Then add 2 finely chopped green chillies, ½ tsp of salt, ½ tsp of coriander powder, ½ tsp of crushed red chilli, ¼ tsp of turmeric powder, ¼ tsp of garam masala. After adding the spices, knead with your hands while mixing 1 cup of gram flour in half-and-half. Knead it well till the spinach, spices and gram flour are bound and if needed you can also add 1-2 spoons of water to it.
Process of making Palak Pakora
Heat oil in a pan. Apply a little oil in your hands, lift some batter and make rounds and put it in the pan for frying. Remember oil should be medium-high hot and flame should be medium. When the pakoras turn golden brown from all sides, take them out. Fry the rest of the pakoras in the same way, the pakoras will be ready.
Process of making Gravy
In a mixer jar, add 4 cloves, 2 small cardamoms, ½ inch of cinnamon, 1 big cardamom, 15 black peppers and 1 chana dal-sized nutmeg and grind them coarsely. Also make a paste of 1 green chili, 2 tomatoes and ½ inch of ginger. Now put 2 tbsp of oil in a pan and heat it. When the oil is heated on a low flame, add ½ tsp of cumin, 1 pinch of asafoetida, ½ tsp of turmeric powder, 1.5 tsp of coriander powder and tomato, green chilli, ginger paste. Fry the spices by turning up the flame a bit.
Then add coarsely crushed whole spices and 1.5 tsp of kashmiri red chili and fry till it leaves oil. Make a thin batter by mixing 1 tsp of gram flour and water in a bowl till the spices are roasted. When the oil separates from the spices, add gram flour mixture to it and keep it covered for 5 minutes.
When the time is up, add 2 cups of water, 1 tsp of salt or as per taste, to bring sour taste in the vegetable, add ½ tsp of dry mango powder and some green coriander and cook it till it comes to a boil. When it comes to a boil, let the gravy boil like this for 5-6 minutes.
When the time is up, cover the pakodas in the gravy and cook for 2 minutes. Spinach Pakoda Chaat is ready, it can be eaten like this or can be served with rice.
Suggestions
While preparing the batter for the pakoras, add water very carefully otherwise the batter may become too thin and it will not make the spinach pakoras right.
How to make Purvanchal Special Palak Sakoda Chaat

Tags
Categories
How to make Purvanchal Special Palak Sakoda Chaat
Nisha Madhulika
Rating:

5.00

out of

5