Danedar Mohanthal Recipe without Mawa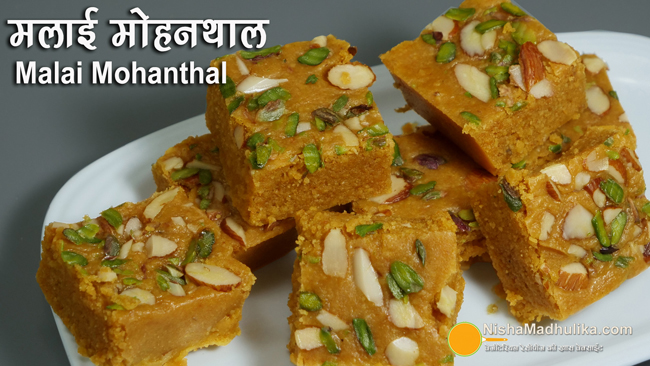 In this beautiful time of festivals, sweetness and happiness are scattered all around, on such occasions, there is a zeal of its own to make something new and delicious for the family in the house. In this happiness, today we are going to make Malai Mohanthal Barfi, this barfi will be made very easily and you will get all the ingredients in your kitchen.
Ingredients for Malai Mohanthal
Gram Flour - 2 cups (250 grams)
Malai - 1 cup
Ghee - ½ cup
Milk - 3 tbsp
Sugar - 1 cup
Cardamom - 8 ground
Almond flakes - 1 tbsp
Pistachio flakes - 1 tbsp
Process of making batter for Mohanthal
Sieve 2 cups (250 grams) of gram flour in a bowl. Add 3 tbsp of ghee (from ½ cup of Ghee which is taken to make Mohanthal) and 3 tbsp of milk (boiled or raw) and mix it well in the gram flour. After mixing, press them lightly and keep them covered for 10-15 minutes, this will make the gram flour swell.
When the time is up, the gram flour will have puffed up well, now mash it a little. Then take a coarse sieve and sieve the gram flour in it, it will make uniform grains of gram flour. Now put ½ cup of the same ghee in a pan, from which ghee was added to the gram flour. Add gram flour and fry it well on low-medium flame. Remember it has to be stirred continuously, otherwise it may stick to the bottom of the pan and may even burn.
After changing the light color, add 1 cup of cream and fry the gram flour with cream until it becomes golden. After roasting well, turn off the flame and keep the pan aside.
Process of making Chashni
Put 1 cup of sugar and ½ cup of water in a pan and cook till the sugar dissolves completely, while stirring it well. After the sugar dissolves well, cook it for 2-3 minutes till a string comes. After the time is over, take it in a spoon, cool it and apply it on the finger and see if a wire comes, then the syrup will be ready.
Process of making Mohanthal
Put the sugar syrup in the gram flour and mix it well and keep stirring till it becomes thick. After it becomes a little thick, add 8 cardamoms peeled and coarsely crushed. When it becomes thick, take it out in a little spoon and make it round, if the right round is being formed then Mohanthal is ready.
Now grease a tray with ghee and put this batter in it. Then put 1 tbsp of almonds and 1 tbsp of pistachio flakes on top of it and press it well and make it the same. Keep it in the fridge to set overnight and cut it into your desired size on the second day. In this way, Mohanthal will be ready, serve it and enjoy its taste.
Suggestions
While roasting the gram flour, keep the flame low-medium, and keep stirring the gram flour continuously till it turns golden brown.
To make sugar syrup, measure sugar and water, half as much water as sugar.
You can keep Mohanthal outside and eat it for 15-20 days.
For cream, take out some cream from the milk and keep it in a container and keep it in the freezer. This cream can be used for 6 months.
If there is no cream then take ½ cup of mawa instead and ½ cup of ghee and mix it in the gram flour in the same way.
Danedar Mohanthal Recipe without Mawa

Tags
Categories
Danedar Mohanthal Recipe without Mawa
Nisha Madhulika
Rating:

5.00

out of

5