Festive Special Atta Malpua with Sweet Rabri Recipe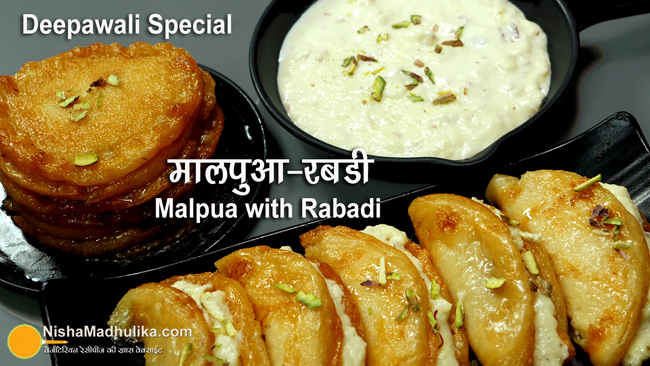 Today we are going to make flour malpua and rabdi for the occasion of the festival. On this special occasion, make this special sweet and give sweetness of happiness to the family members and guests. The method of making them is also so easy that not only on special occasions, but you would also like to make it like this anytime. Malpuas will become so soft that they will disappear as soon as you keep them in the mouth and their taste will also remain for a long time.
Ingredients for Malpua Rabri
For Malpua
Wheat Flour - 1 cup (160 grams)
Mawa - 100 grams (½ cup)
Milk - 2 cups
For Rabdi
Milk - 1 liter (full cream)
Cornflour - ½ tbsp
Almond Flakes - 1 tbsp
Cardamom - 4, grounded
Sugar - ¼ cup
For Chashni
Sugar - 1 cup (250 grams)
Cardamom - 2, grounded
Kesar Strands - 15-20
Ghee for frying
Process of making batter for Malpua
Put 1 cup of wheat flour, 100 grams of mawa and 2 cups of milk in a mixer jar and beat it well. If the batter looks too thick, add some milk and beat it back. Batter for Malpua will be ready, take it out in a bowl and keep it covered.
Process of making Rabri
Pour some water in a wide pan, wet it and take out the water, then add 1 litre of full cream milk to it. Now boil it, after it comes to boil, cook it on medium flame till it becomes thick. Remember, you have to keep stirring it from time to time and keep releasing it from the side of the pan. Take out some milk in a bowl and keep it to cool down.
Add ½ tbsp of cornflour to the milk which was kept to cool down and mix it well. After the milk becomes thick, pour this solution while stirring the milk in the pan. Now make it thick while stirring it a little at a time. When it becomes thick, add 1 tbsp of almond flakes, 4 coarsely crushed cardamom and ¼ cup of sugar and stir it while mixing it well. After it thickens and after the sugar is mixed, the rabri will be ready.
Process of making Chashni
Put 1 cup of sugar in a pan and add 1 cup of water and cook till the sugar dissolves in the water. After the sugar dissolves in the water, add 2 ground cardamom and 15-20 saffron threads and cook the syrup for 4-5 minutes. Remember, wire syrup is not needed, only syrup should be sticky. Check it when the time is up, if it is sticking to the finger, then turn off the flame and the syrup will be ready.
Process of making Malpua
Now stir the batter, if the batter looks too thick, add some milk and stir it. Put ghee in a pan and heat it, remember that for frying malpua, the ghee should be less than medium hot and the flame should be low-medium.
After it becomes hot, pour the batter into it and give it a round shape. Now fry it from below till it becomes light brown. In the meantime, put some ghee on the top too so that it gets lightly fried from above. After it turns light brown, fry it till it turns golden brown from both the sides. While removing it with the help of a spatula and a spoon, take out its ghee and keep it in a plate. Similarly make all the malpuas.
While cooking the second malpua, put the first one in the syrup so that it soaks till the second one is cooked. Put the other in the same way and make all in the same way.
Process of assembling Malpua and Rabri
Put a little rabri on a malpua and spread it in half. After this, fold it in the shape of gujiya, a malpua filled with rabdi will be ready and assemble the rest in the same way.
Put some malpuas separately in a plate, take out the rabri in a bowl (if it seems too thick, dilute it by adding a little milk) and also keep the malpua filled with rabri in a plate and garnish with pistachio flakes and serve them.
Suggestions
While making rabri, you can use arrowroot instead of cornflour or you can add ½ cup of milk powder. Or by adding nothing, thicken this milk a little more.
Batter should neither be too thin nor too thick.
The oil should be less than medium hot while frying the malpua.
While making the rabri, keep stirring it continuously for a while so that it does not stick to the bottom.
Festive Special Atta Malpua with Sweet Rabri Recipe

Tags
Categories
Festive Special Atta Malpua with Sweet Rabri Recipe
Nisha Madhulika
Rating:

5.00

out of

5