How to make Mawa Mishri Ladoo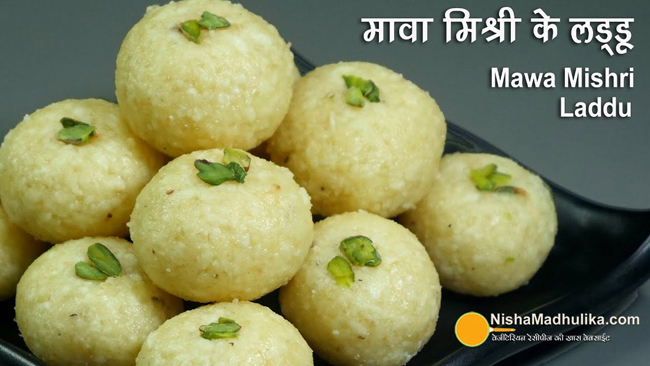 Mawa Mishri Laddu is not only the favorite sweet of Kanha ji, but his devotees also like this sweet very much. Today we will prepare Mawa Mishri Ladoos by making them in a very easy way. These are very easy to make and they require very few ingredients which are also present in your kitchen.
Ingredients for Mawa Mishri Ladoo
Mawa - 1.5 cups (300 grams)
Paneer - ¾ cup (150 grams)
Mishri - 150 grams
Cardamom - 4 ground
Pistachio Flakes - 1 tsp
Process of making Mawa Mishri Ladoo
Grate ¾ cup (150 grams) of paneer into small pieces. Now put 1.5 cups (300 grams) of mawa in a pan and fry it well. Mash the mawa a little with your hands and put it in the pan and keep the flame medium. Fry the mawa while stirring continuously till it changes color and leaves the ghee.
When mawa starts leaving ghee, then add ¾ cup of grated paneer and fry it well. Now fry them till they become dry, then turn off the flame and leave them in a hot pan and let them cool down in a bowl.
Crush 150 grams of sugar candy lightly till the mawa paneer cools down. Put some mishri in the crusher and crush it. Then sieve it through a sieve, now sieve the remaining big pieces after crushing it. Similarly grind all the mishri.
When the mawa cools down, add mishri to the mawa paneer. Remember, do not mix mishri in hot mawa paneer at all. Mix mishri in mawa paneer and add 4 ground cardamom to it and mix this mixture well with your hands. After mixing, take it little by little in your hand and make laddus. Similarly make all the laddus, and garnish it with pistachio flakes. Mawa Mishri Laddu will be ready.
Suggestions
Keep the flame medium while frying the paneer and mawa, then keep stirring it till the color changes slightly and the aroma comes.
When the mawa paneer mixture cools down, then add mishri powder to it.
Buy only soft Khoja Mishri from the market, as its powder is made quickly.
These laddus can be kept in the fridge and eaten for 10 days.

Tags
Categories
How to make Mawa Mishri Ladoo
Nisha Madhulika
Rating:

5.00

out of

5