How to make Makhana Falahari Modak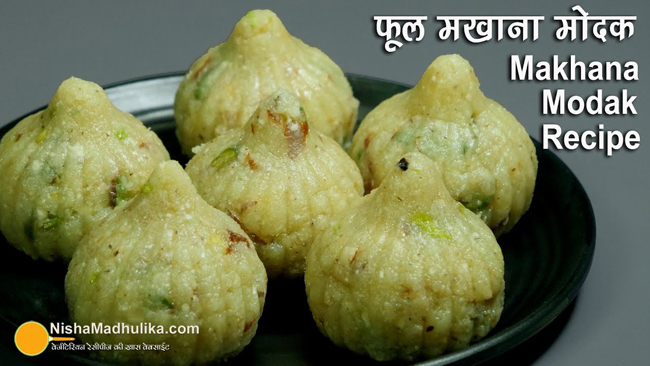 On festivals, devotees make fruit-based modaks with great hearts and offer them to Lord Ganesha as bhog. These are made from makhana and dry fruits. Today we will make Makhana Falahari Modak with a very easy method. With this easy method, you can make them not only at festivals but also at any time. Also, because they are falahari, they can be made and eaten during fasting too.
Ingredients for Makhana Modak
Makhana - 2 cups (40 grams)
Ghee - 1 tsp
Almond - 2 tbsp, finely chopped
Cashew - 2 tbsp, grounded
Desiccated Coconut - 2 tbsp
Pistachio Flakes - 1 tbsp
Full Cream Milk - ½ liter
Sugar - ¾ cup (150 grams)
Cardamom - 4 ground
Process of making Makhana Falahari Modak
Put 2 cups of makhana in the pan and dry roast on medium flame for 5 minutes till the color changes. After roasting, take them out in a bowl and put 1 tsp of ghee in the same pan and heat it. Then add 2 tbsp of finely chopped almonds and 2 tbsp of coarsely chopped cashews and fry them lightly.
Now add 2 tbsp of coconut powder and fry it a little while mixing. Then put 1 tbsp of pistachio flakes in it and stir the mixture lightly, turn off the flame and take it out on a plate.
Put ½ liter of full cream milk in the same pan and heat it on high flame. Put the roasted makhana in the mixer jar till it becomes hot and grind it to make powder. Remember, the milk has to be kept on stirring. Stir it for about 18 minutes, then add ¾ cup of sugar (you can add more or less sugar according to your choice) and cook on medium flame, stirring the milk till the sugar dissolves.
When the sugar is completely mixed in the milk, add the powdered makhana powder to it and mix it well. Then add roasted dry fruits to it and cook by mixing. Now put 4 coarsely ground cardamom in it and keep stirring till it becomes a thick dough. Then turn off the gas and take it out in a bowl and let it cool.
After the dough cools down, grease the modak mold with ghee. Then take a little dough and mash it in your hand and make it sharp from one side. Now pour the dough from the penny side into the mold and fill it well, so that it can take the shape of the modak well. Now open the mold and take out the modak. Similarly make the rest of the modaks as well. Makhana Modak will be ready.
Suggestions
You can eat Makhana Modak by keeping it outside for 7 days and keeping it in the fridge for 15-20 days.
How to make Makhana Falahari Modak

Tags
Categories
How to make Makhana Falahari Modak
Nisha Madhulika
Rating:

5.00

out of

5