Traditional Steamed Modak Simple Recipe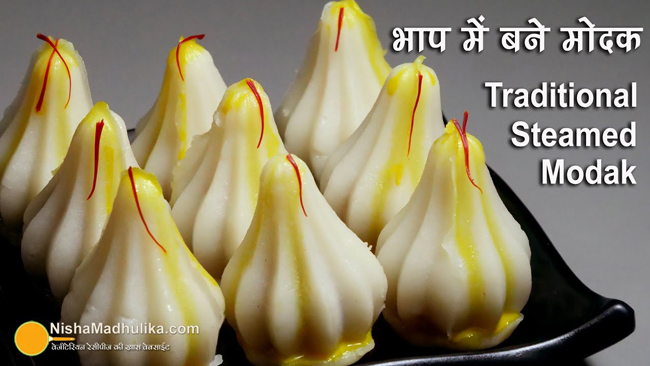 Modak is Ganesh ji's favorite sweet. On the festival of Ganesh ji, a big prasad of it is made and distributed. Keeping in mind the love and devotion of Ganesh ji, today we are going to make Modak. We will make traditional modaks in steam and it gets ready very quickly.
Ingredients for Traditional Steamed Modak
Ghee - 1 tsp
Salt - ½ tsp
Rice Flour - 1 cup (140 grams)
Poppy Seeds - 1 tbsp
Jaggery - ½ cup (75 grams)
Fresh Coconut - ½ cup, grated
Almond Flakes - 2 tbsp
Cashew Powder - 2 tbsp
Cardamom - 4 ground
Process of making dough for Modak
Put 1 cup of water, 1 tsp of ghee and ½ tsp of salt in a pan and cook it till the water boils. Now after turning off the flame, add 1 cup of rice flour and keep mixing it till it becomes a dough. After making dough, cover it and keep it for 10-15 minutes.
Process of making stuffing for Modak
Heat the pan a little, add 1 tbsp of poppy seeds and fry it till it turns light brown. After roasting, take it out and put ½ cup of jaggery in the same pan and heat it till it melts. Remember, keep stirring it till the jaggery melts so that the jaggery does not stick to the bottom.
After the jaggery melts well, add ½ cup of grated fresh coconut and fry it for a while, while mixing. Remember the flame will be low. After frying for 1-2 minutes, add roasted poppy seeds, 2 tbsp of almond flakes, 2 tbsp of cashew powder and 4 small cardamom (coarsely ground). After mixing them well, fry them a little, take them out on a plate and cool them, in this way the stuffing for the modak will be ready.
Process of making Modak
Now knead the dough with the help of a little ghee, if the dough seems too dry then you can also add a little water. After kneading well, keep it covered so that it does not dry out. Now apply some ghee on your hand and make small rounds of the stuffing.
Then take a modak mold and grease it with ghee. Take a little dough in your hand, mash it and make it sharp from one side. Put the dough in the mold from the penny side and press it well so that it can take the shape of the modak properly. Then put a stuffing round in the middle and close it from above. Similarly make all the modaks.
Put water in a pan and boil it. Grease a steel sieve with ghee and place the prepared modaks in it. Keep the sieve on the pan and cover it. Let them cook in steam for 12 minutes.
In this way the traditional modaks will be ready. Garnish them with milk and saffron and offer it to Lord Ganesha and take this prasad.
Suggestion
You can keep these modaks in the fridge and eat them for 3 days.
While making dough from rice flour, measure the flour and water.
While assembling the modak, close the stuffing properly.
Traditional Steamed Modak Simple Recipe

Tags
Categories
Traditional Steamed Modak Simple Recipe
Nisha Madhulika
Rating:

5.00

out of

5