Simple recipe of street style spicy- saucy Chilli Chana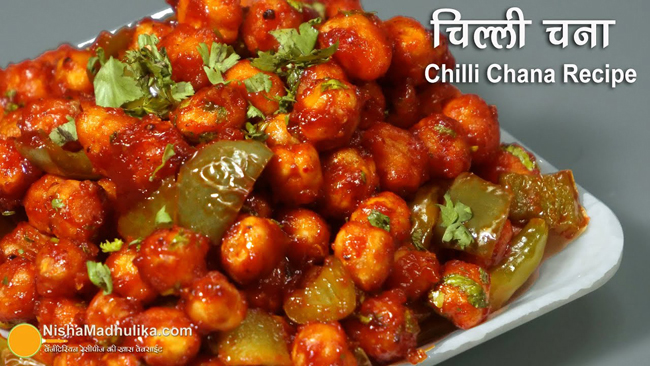 Who does not like to eat spicy snacks that too in the street food style. But at the time of Corona, the opportunities to go out were rarely available. That's why today we are going to make spicy and crunchy Chilli Chana, it will have a little sweetness and its taste will also be like street food. They will be made so easily that you would prefer to eat them by making them at home than going out instead.
Ingredients for Chilli Chana
Kabuli Chana - ½ cup (100 grams) soaked overnight
Salt - ½ tsp
Corn Flour - 2.5 tbsp
Oil for frying
Oil - 1 tbsp
Ginger - 1 tsp grated
Green Chilli - 2
Capsicum - 1 small chopped
Soya Sauce - 1 tsp
Vinegar - 1 tsp
Tomato Sauce - 2 tbsp
Kashmiri red chilli powder - 1 tsp
Black pepper - 1 tsp grounded
Salt - ¼ tsp
Corn Flour - 1 tsp
Coriander leaves - 2 tbsp
Process of boiling Chana
Wash and soak ½ cup of chickpeas overnight. On the second day, put soaked gram, ½ cup of water and ½ tsp of salt in the cooker and mix it well and boil it on high flame till one whistle. After a whistle, reduce the flame to low and boil it for 2-3 minutes. When the time is up, turn off the flame and take out the pressure of the cooker.
Process of coating Chana
Now put the chickpeas in a sieve and drain the water and cool them. When it cools down, add 2.5 tbsp of cornflour and mix it well. Now shake the bowl well and apply corn flour coating on the chickpeas. Leave them like this for 5 minutes for the corn floor to set properly on the chana.
Process of frying Chana
Heat oil in a pan, oil should be hot. When hot, put the chickpeas in oil and fry for 2 minutes. When they float up on their own, then fry them till they change color and take them out. Take them out and keep them in a sieve to drain the oil. Then take them out on a plate and fry the rest of the gram in the same way.
Process of making sauce for Chilli Chana
Put 1 tbsp of oil in a pan and heat it. When hot, add 1 tsp of grated ginger, 2 green chilies chopped lengthwise and 1 chopped capsicum and fry it lightly. Remember, keep the flame high and fry them for 1 minute.
Now add 1 tsp of soy sauce, 1 tsp of white vinegar and 2 tbsp of tomato sauce and mix it well. Then add 1 tsp of kashmiri red chilli, 1 tsp of ground black pepper and ½ tsp of salt and stir it well. Make a solution by adding 1 tsp of cornflour and 2-3 tbsp of water in a bowl.
Put this solution in the pan and cook it well for 2 minutes. When the sauce is cooked well, add gram to it and mix it well on low flame. Put some green coriander on top and take them out, Chilli chana will be ready. Serve them and enjoy their taste.
Suggestions
Do not cook too much while boiling the gram.
After adding the cornflour, leave it for 5-7 minutes.
Keep the flame high while frying and fry them in good hot oil.
Simple recipe of street style spicy- saucy Chilli Chana

Tags
Categories
Simple recipe of street style spicy- saucy Chilli Chana
Nisha Madhulika
Rating:

5.00

out of

5