Crispy Malai Layered Vermicelli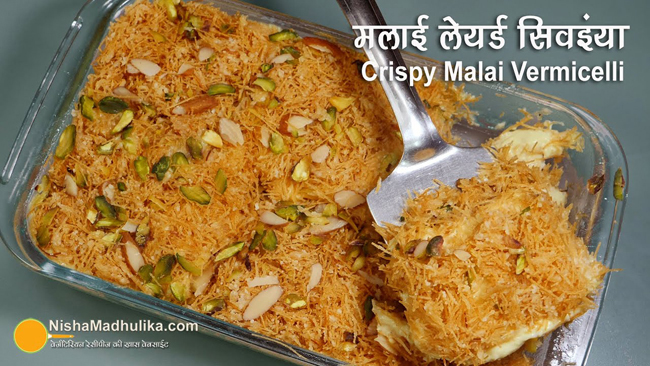 Everyone likes to eat different types of sweets and the variety available in them is less. Especially for those who are fond of sweets. With this sweetness, today we are going to make crispy semiya creamy filling. This is the Indian version of kunafa, with crisp semiya on the top and bottom and thick cream in the middle. It is very easy to make and has a different taste when eaten.
Ingredients for Semiya Malai Dessert
Vermicelli - 200 grams, roasted
Ghee - 2 tbsp
Malai or Cream - 6 tbsp
Sugar Powder - ¾ cup (100 g)
Milk - ½ liter, full cream
Milk - ½ cup, full cream
Custard Powder - 2 tbsp
Condensed Milk - ½ cup
Green Cardamom - 6-7 ground
Almond flakes - 2 tbsp
Pistachio Flakes - 2 tbsp
Process of roasting Vermicelli
Break 200 grams of thinly roasted vermicelli into a bowl and make them finely. Now heat 2 tbsp of ghee in a pan, add vermicelli and fry it on low flame. After getting a good smell from them, add 6 tbsp of fresh cream and fry it for 2-3 minutes. After roasting, turn off the flame and keep it aside to cool down.
Process of making Malai
Boil ½ liter of full cream milk in a pan. Stir the milk when it comes to a boil, now add 2 tbsp of custard powder to ½ cup of full cream cold milk (this milk has to be boiled and cooled) and mix it well to remove all the lumps and make a solution. Now reduce the flame to low and pour this solution while stirring the milk. Now turn the flame to medium and cook it for 5-6 minutes while stirring it.
When the time is up, add ½ cup of condensed milk (this will thicken the cream and give it flavor). Condensed milk has 4 tbsp of milk solids and 4 tbsp of sugar powder, that means there is no need to add sugar to the cream anymore. Cook it while stirring for 6-7 minutes and make it thick. Remember to keep stirring it, otherwise it will start sticking to the bottom of the pan. When it becomes thick, add 6-7 cardamom peeled and crushed and mix it well. Cream for the semiya malai dessert will be ready, cover it and keep it.
Process of making Crispy Malai Layered Vermicelli
When the semiya cools down, add ¾ cup of sugar powder and mix it well. If you have boora then put that instead of sugar. Remember, while adding sugar powder or boora, semiya should be very cold, if mixed in hot, then semiya will become hard and they will not be fun to eat.
After mixing it has to be set to make Semiya Malai Sweets. Put half a semiya in a tray and set it well by pressing it. Now pour cream over it, if it is hot, then put it hot and make it the same. Put the remaining semiya on it and cover the whole cream well. After this, garnish it with almonds, pistachios and cashews and press it lightly with the help of a spoon.
Now keep it in the fridge for 1 hour and store it. When the time is up, semiya malai dessert will be ready, serve it and enjoy its sweet taste.
Suggestions
If you are not adding condensed milk, then you can add 4 tbsp of milk powder and 4 tbsp of sugar powder.
If you do not want to add milk powder and sugar powder also, then add 150 ml more milk to it, thicken it and after that add it, mix custard powder as described and cook till it becomes thick and add 4 tbsp of sugar.
If you are taking roasted semiya, then they have to be lightly roasted. And if you are not taking roasted vermicelli, then fry them till they become brown.
And while making cream, keep stirring it.
Crispy Malai Layered Vermicelli

Tags
Categories
Crispy Malai Layered Vermicelli
Nisha Madhulika
Rating:

5.00

out of

5