Carissa Carandas Jam Recipe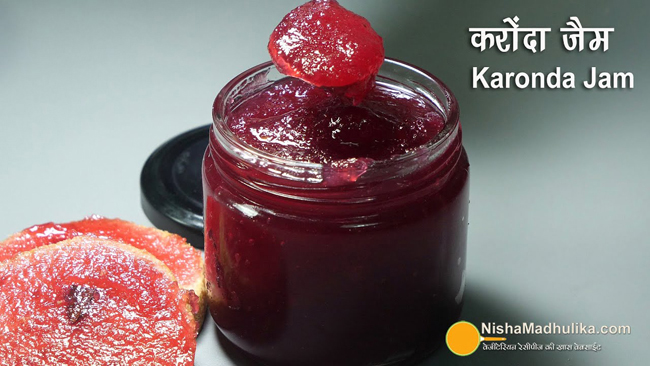 Whether it is a breakfast of bread jam or to eat jam on roti, children like to eat it all the time. Not only children but also elders are very fond of eating it. So that's why, especially for the kids, today we are going to make Karonde Ka Jam. Karonda is very beneficial, and by making its jam, we can make healthy fruit tasty.
Ingredients for Carissa Carandas Jam
Karonda - 500 grams
Sugar - 600 grams
Cinnamon - 2 inches
Green Cardamom - ½ tsp, grounded
Process of boiling Carissa Carandas
Wash and dry 500 grams of karondas thoroughly. Now cut them in half, if there is a stalk above their seed, then remove it and cut it. After this, put chopped karondas and 1.5 cups of water in the pan, cover and cook till it comes to a boil. Remember, you just have to pour enough water that the karondas get submerged. When they come to a boil, boil them stirring occasionally till they become soft. When they become soft, turn off the flame and cool them.
Process of grinding Carissa Carandas
After cooling, filter them and take out all the water so that they are finely ground while grinding. After sifting, put them in a mixer jar and grind them finely. After grinding, sieve the ground karondas in the same bowl in which its water was taken out. It is very important to do this because it removes the fibers.
Process of making Carissa Carandas Jam
Put Karonda pulp and 2.5 cups (600 grams) of sugar in a pan and cook on high flame. Keep the flame high till it boils, as soon as it comes to a boil, add two pieces of cinnamon and cook on low-medium flame till it thickens. Remember, you have to keep stirring it after a while so that it does not stick to the bottom of the pan.
After the jam thickens well, take it out on a plate, cool it and tilt the plate to see if the jam is moving from its place or not. If it is not moving then it means the jam is ready. Turn off the gas and add ½ tsp of ground cardamom and mix it well. When it cools down, take it out in a bowl, in this way the jam of karondas will be ready. Take it out in a glass container and make jam toast for breakfast and serve it to children and enjoy this breakfast yourself.
Suggestions
When the karondas are kept for boiling, add less water.
When the jam is cooking, keep stirring it continuously, jam should not stick in the bottom of the pan.
After the jam cools down, take it out in a glass container and keep it. First wash the glass container with good boiling water and dry it in the sun and put the jam in it.
This jam will last for 6 months outside and can be used for a whole year by keeping it in the fridge.

Tags
Categories
Carissa Carandas Jam Recipe
Nisha Madhulika
Rating:

5.00

out of

5