Aloo Khasta Kachori Recipe with 5 important tips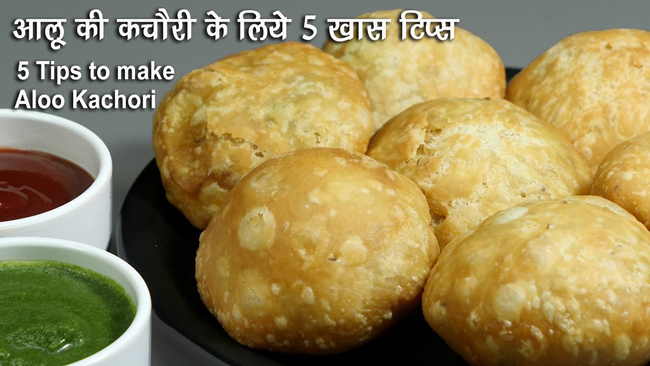 Everyone likes to eat spicy and crispy kachori. But every time some problem arises in making them. Getting rid of those troubles, today we are going to make potato crispy Kachori, which will swell well every time and will also become crispy. To make them well, some important tips have been given, by following which your kachoris will also become absolutely crispy and puffy.
Ingredients for Aloo Khasta Kachori
For Kachori
Refined Flour - 2 cups (250 grams)
Salt - ½ tsp
Carom Seeds - ½ tsp
Oil - ¼ cup (60 ml)
For Stuffing
Potato - 3 Boiled (250 g)
Oil - 1 tbsp
Ginger - 1 tsp, grated
Green Chilli - 2 finely chopped
Coriander Powder - 1 tsp
Cumin Powder - ½ tsp
Turmeric - ¼ tsp
Salt - ½ tsp
Red Chilli - ½ tsp
Garam Masala - ½ tsp
Dry Mango Powder - ½ tsp
Coriander Leave - 2 tbsp
Oil for frying
Process of making dough for kachori
In a bowl add 2 cups (250 grams) of all purpose flour, ½ tsp of salt, ½ tsp of carom seeds (crushed) and ¼ cup of oil for moyan and mix well. Now add water little by little and prepare a soft dough by kneading it. After kneading the dough well, keep it covered for 20 minutes.
Process of making stuffing for kachori
Peel 3 medium sized boiled potatoes and mash them very finely. Now put 1 tbsp of oil in the pan and heat it. Then add 1 tsp of grated ginger, 2 finely chopped green chillies, 1 tsp of coriander powder and ½ tsp of cumin powder and fry lightly on low flame. Then add ¼ tsp of turmeric powder and fry the spices, add mashed potatoes and mix the spices with the potatoes and fry them well.
Turn up the flame to medium, add ½ tsp of salt, ½ tsp of red chilli, ½ tsp of garam masala and ½ tsp of dry mango powder. Now fry the potatoes well for 2-3 minutes and mix all the spices well. Add some green coriander and mix, the stuffing for the kachori will be ready.
Process of filing Kachori
After the time of keeping the dough is over, take a little oil in your hand and mash it a little. Now break the dough and make medium sized balls. Make a good round shape by pressing it lightly in the middle and make it thin from the edges, so that the center remains thick and a bowl-like shape is formed.
Now put 1 tsp of stuffing in it and close it. Close the dough tightly and pull the dough a little and break it a little and press it from the middle. Filling the kachoris will be ready, similarly fill all the kachoris.
Process of frying kachori
Heat oil in a pan, remember that the oil should not be too hot. Make a kachori a little bigger by pressing on the hand. After doing the same from all the sides, put the kachori in the oil. While pressing the kachori on the palm, remember to press it from the same side from which the kachori is closed.
Now fry the kachoris for 5 minutes and when they float on their own, then turn the flame to low-medium and fry them till they turn golden brown. After roasting well, take them out and make the rest in the same way.
If the stuffing is left, then you can make potato parathas from it or you can eat them by mixing it in curd. In this way potato crispy kachoris will be ready, serve them with green coriander chutney and enjoy their taste.
5 Tips
Measure the moyan, one-fourth of the weight of the dough. For example, 250 grams of flour has been taken and 60 grams of oil has been taken for Kachori dough.
The dough for Kachori should be very soft.
Roasting potatoes with spices is very important, because of this, the moisture of the potato ends and the kachoris do not become oily.
Close the stuffing tightly inside the dough, stretch the dough a little and break it and press it a little. With this, the kachoris will not open while frying.
When the kachoris are put for frying, make sure that the oil is less hot, and do not touch the kachoris for 5 minutes after pouring. They will slowly float up on their own, after which they have to turn over.
Aloo Khasta Kachori Recipe with 5 important tips

Tags
Categories
Aloo Khasta Kachori Recipe with 5 important tips
Nisha Madhulika
Rating:

5.00

out of

5