Rajasthani Kasar Magadh Churma Recipe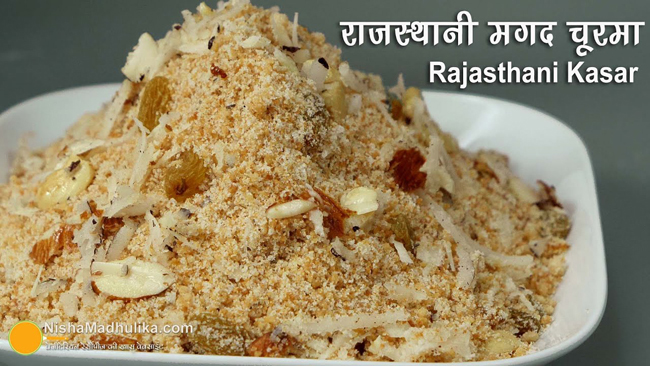 Magad Churma is a special dish of Rajasthan, it is also called Kasar. It is also made on auspicious occasions or for breakfast. If you are going on a faraway journey, then you can make it and take it. It lasts for a long time and it is also a very light snack.
Ingredients for Rajasthani Magadh Choorma
Wheat Flour - 1 cup (150 grams)
Desi Ghee - 3-4 tbsp
Milk - 2-3 tbsp
Almond flakes - 2-3 tbsp
Cashews - 2-3 tbsp
Dry Coconut - ½ cup, grated
Raisin - 2 tbsp
Green Cardamom - 5
Boora or Tagar - ¾ cup (100 grams)
Process of making Rajasthani Magad Choorma
In a bowl add 1 cup of wheat flour and 1 tbsp of ghee and mix it well. After mixing, add 2 tbsp of milk (heat the milk and let it cool down and it should be of normal temperature) and mix it well. After mixing the milk well, press the mixture together and keep it covered for 10-15 minutes.
After the time is up, the dough will have swelled, now take it in your hands and mash it lightly. Sieve the flour through a sieve with a large hole. While sifting, the coarse flour that will be formed, mash it in a sieve and sieve it.
Put flour in a pan and fry it on low-medium flame. Now add 1 tbsp of ghee and fry till it becomes light golden brown. You can take more or less ghee as per your wish. After roasting, turn off the flame and take it out in a bowl and keep it to cool down.
Now put 1 tbsp of ghee in the same pan and heat it, then add 2-3 tbsp of almond flakes, 2-3 tbsp of chopped cashew nuts in it. Fry them lightly on low flame, remember that you have to fry them till they become light brown. After roasting, add ½ cup of grated coconut and fry for 1 minute. After roasting, take it out in the same bowl and keep it.
When the mixture cools down, add 2 tbsp of raisins, 5 coarsely ground small cardamoms and ¾ cup of boora and mix the mixture well, Rajasthani Magad Churma will be ready.
Suggestions
The flame should be low-medium while roasting the flour.
After making the churma, leave it in the air for 1 hour and then keep it in any container for 2 months and eat it.
Rajasthani Kasar Magadh Churma Recipe

Tags
Categories
Rajasthani Kasar Magadh Churma Recipe
Nisha Madhulika
Rating:

5.00

out of

5