Maharashtrian special Namkeen Puran Poli Recipe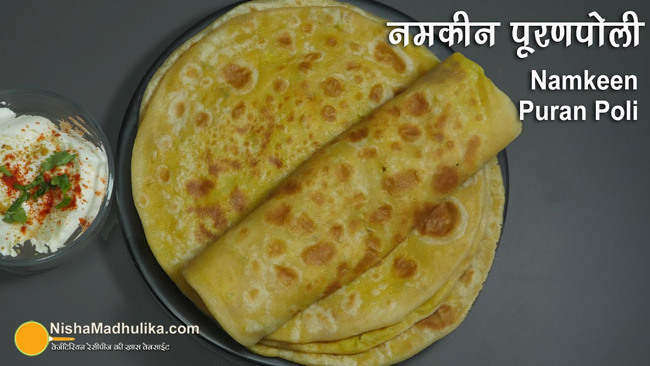 Puran Poli is very famous in Maharashtra. This dish is made on special festivals like Ganesh Chaturthi or Diwali. There are two types of Puran Poli, one sweet and one salty. Today we are going to make Namkeen Puran Poli. Make it with a very easy method and enjoy its taste.
Ingredients for Namkeen Puran Poli
Wheat Flour - 1 cup (150 grams)
Refined Flour - 1 cup (130 grams)
Salt - ½ tsp
Chana Dal - ½ Cup (100 grams)
Green Chilli - 2 finely chopped
Ginger - 1 tsp grated
Ghee - 4 tsp
Carom Seeds - ¼ tsp
Turmeric Powder - ½ tsp
Coriander Powder - 1 tsp
Cumin Powder - ½ tsp
Red Chilli Powder - ½ tsp
Garam Masala - ¼ tsp
Dry Mango Powder - ½ tsp
Salt - ½ tsp
Coriander Leaves - 1-2 tbsp
Process of making dough for Puran Poli
In a bowl add 1 cup of wheat flour, 1 cup of all purpose flour, ½ tsp of salt and 1 tsp of ghee and mix it well. Then add water little by little and make a soft dough, like it is made for roti. If the dough starts sticking in the hand, then add some ghee and knead it. After kneading the dough well, keep it covered for 20-25 minutes.
Process of making Stuffing
Put ½ cup of chana dal in the cooker (soak it in water for an hour and remove the water and put it in the cooker) and add ½ cup of water. Cook the dal on high flame till one whistle. After one whistle, reduce the flame to low and cook the dal for 5 minutes.
When the time is up, turn off the flame and cool the cooker. When the lentils cool down, put boiled lentils, 2 finely chopped green chilies and 1 tsp of grated ginger in a mixer jar and grind the mixture. Now put 2 tsp of ghee in the pan and heat it. When hot, put ¼ tsp of carom seeds in it (crush it a little and put it in) and reduce the flame. Then add ½ tsp of turmeric powder, 1 tsp of coriander powder and ½ tsp of cumin powder and fry it lightly.
Now put the ground lentils in it and stir it well. Then add ½ tsp of red chili powder, ¼ tsp of garam masala, ½ tsp of amchur powder and ½ tsp of salt and fry the spices by mixing them well with lentils. Keep stirring it till it becomes like a dough and also add some green coriander in it, mix it well and take it out in a plate and let it cool down a bit.
Process of making Puran Poli
Take a little ghee in your hand and mash the dough lightly. Now make dough as big or small as you want. Then make balls according to the stuffing. Now take a ball and make it round like a peda. With the help of a little dry flour, roll it into a 2-3 inch circle. Then put a ball of stuffing in it and close it well and make a peda.
Now put it back in the dough and raise it with the help of your finger and thumb. By doing this, the stuffing inside it spreads all around and it does not burst while rolling. After raising it a little by hand, apply light flour and roll it thin. Roll it so much that the stuffing does not come out.
Heat a tawa, pour some ghee on it and spread it all around. Now put the rolled poori on it and cook it with ghee on both the sides till it turns golden brown. Roast the rest of the puran poli in the same way. In this way puran poli will be ready, serve them with pickles or any juicy vegetable and enjoy their taste.
Suggestions
You can serve Puran Poli with any juicy vegetable.
Maharashtrian special Namkeen Puran Poli Recipe

Tags
Categories
Maharashtrian special Namkeen Puran Poli Recipe
Nisha Madhulika
Rating:

5.00

out of

5