Simple Recipe of Paneer Jalfrezi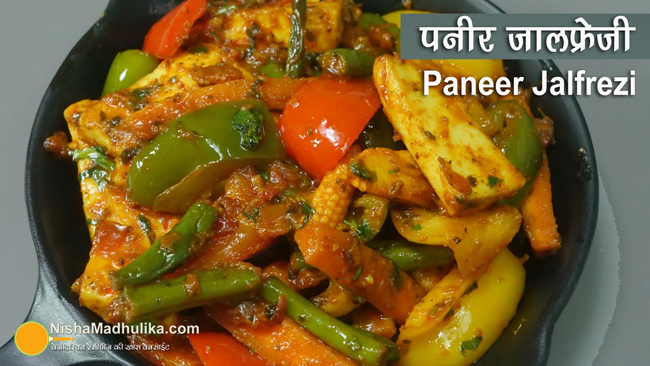 Often we feel like eating something new, tasty and healthy. Something that is very tasty and by which there is no harm to our health. And this happens especially with those people who are on the path of weight loss but do not want to forget their taste. With this combination of taste and health, today we are going to make Paneer Jalfrezi. It will be made at home with a very easy method.
Ingredients for Veg Jalfrezi
Butter - 2 tbsp
Carrot - 1
French Beans - 100 grams
Baby Corn - 3
Green Capsicum - 1
Red Capsicum - 1
Yellow Capsicum - 1
Butter - 1 tbsp (for paneer)
Paneer - 150 grams
Oil - 2 tbsp
Cumin Seeds - ½ tsp
Ginger - 1 tsp grated
Green Chilli - 1 tsp finely chopped
Tomato - 2
Salt - 1 tsp
Turmeric Powder - ¼ tsp
Coriander Powder - 1 tsp
Dry Fenugreek - 1.5 tsp
Kashmiri Red Chilli - 1.5 tsp
Tomato Sauce - 2 tbsp
Garam Masala - ¼ tsp
Black Pepper - ¼ tsp
Coriander Leaves - 2 - 3 tsp
Process of making Paneer Jalfrezi
Heat a pan, add 2 tbsp of butter and melt it. When the butter is heated well, add 1 long chopped carrot and fry it for half a minute. Then put 1 cup of beans in it and fry it well for a minute.
After this, add 1 green capsicum, 1 red capsicum and 1 yellow capsicum to it after chopping it slightly. After stirring them for 2 minutes, take them out on a plate. Now melt 1 tsp of butter in the same pan. Then put 60 grams of chopped paneer in it (the cheese is to be cut as big as the vegetable is cut) and fry till it turns brown from both the sides. Remember it has to be roasted on low flame only. Take it out on a plate too.
Then put 1 tsp of oil in the same pan and heat it. Add ½ tsp of cumin, 1 tsp of grated ginger, 1 tsp of finely chopped green chillies and 2 finely chopped tomatoes and fry. After roasting, add 1 tsp of salt, ¼ tsp of turmeric powder, 1.5 tsp of coriander powder and 1 tsp of dry fenugreek (crush them in the palm and remove the coarse stalks) and fry the spices a little. Then add 1.5 tsp of red kashmiri chilli, 2 tbsp of tomato sauce and ¼ tsp of garam masala and fry till oil separates well.
Now add 2-3 tbsp of water to it and stir it a little. Then add roasted vegetables, paneer and ¼ tsp of ground black pepper and mix lightly. Cook it on low-medium flame till the water burns. In this way, Paneer Jalfrezi will be ready, take it out on a plate and serve it and enjoy its taste.
Suggestions
According to your choice, you can take cauliflower, cabbage or any vegetable in it.
Simple Recipe of Paneer Jalfrezi

Tags
Categories
Simple Recipe of Paneer Jalfrezi
Nisha Madhulika
Rating:

5.00

out of

5