Immunity Booster Raw Turmeric Halwa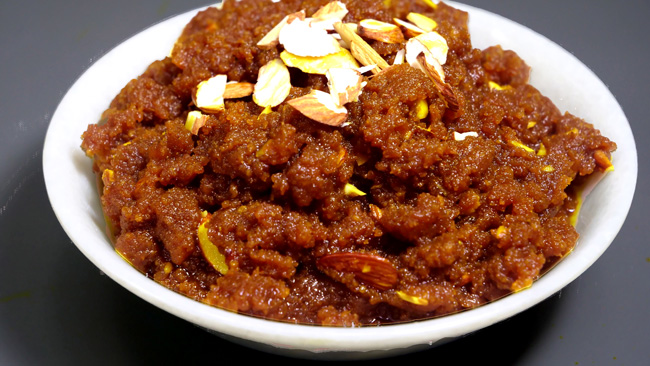 Today we are going to make raw turmeric halwa for the winter season. It gives warmth to the body and also increases immunity. It is very easy to make and it is also very tasty to eat. It is not made and eaten like a sweet dish, just 1-2 spoons is eaten every day with a glass of hot milk. By making it more than once, you can keep it for the whole winter and eat it.
Ingredients for Raw Turmeric Halwa
Raw Turmeric - 250 grams
Almond - 1 cup (125 grams)
Ghee - Ghee - 200 grams
Gram Flour - 1 cup (125 grams)
Jaggery - Jaggery - 1 cup (300 grams)
Green Cardamom - 8-10, coarsely crushed
Almond Flakes
Process of making Raw Turmeric Halwa
Peel and dry 250 grams of raw turmeric. In a mixer jar, cut the raw turmeric into small pieces and add 3 tablespoons of water and grind it very finely. Put 100 grams of almonds in another mixer jar and grind them finely.
Now put 4 tablespoons of ghee in a pan and melt it. On melting, reduce the flame to low and add ground turmeric and fry it on low-medium flame while stirring continuously. After the turmeric has absorbed the ghee, when the turmeric leaves the ghee, then add finely ground almonds to it. Fry it for 2 minutes while mixing, then take off the pan and keep it. Even after taking the turmeric off the gas, it has to be run for 1-2 minutes because the pan is hot, turmeric will turn black from below.
Now melt 2-3 tbsp of ghee in another pan. When it melts, add 1 cup of gram flour and fry it on low-medium flame while stirring continuously. After a slight change in color and smell, reduce the flame to low and put 300 grams of jaggery in it. Cook it on low flame while stirring continuously till the jaggery melts.
After the jaggery melts well, add roasted turmeric-almonds and 1 tablespoon of ghee and fry it while mixing it well. Mix them well and fry them, when mixed well, add 8-10 coarsely ground cardamom and cook for 1 minute while mixing. Ghee starts separating from the halwa which means that the halwa is ready. Add almond flakes to it and cook for 1 minute, in this way raw turmeric halwa will be ready. Cool it and keep it in a container and eat it daily with 1-2 spoons of hot milk, you will be saved from cold for the whole day.
Suggestions
The flame should be low-medium while roasting turmeric and gram flour.
If there are elderly people at home and they have problems with their teeth, then do not mix almond flakes and give halwa.
Immunity Booster Raw Turmeric Halwa

Tags
Categories
Immunity Booster Raw Turmeric Halwa
Nisha Madhulika
Rating:

5.00

out of

5