Delhi Special Fresh Matar Chola & Poori Recipe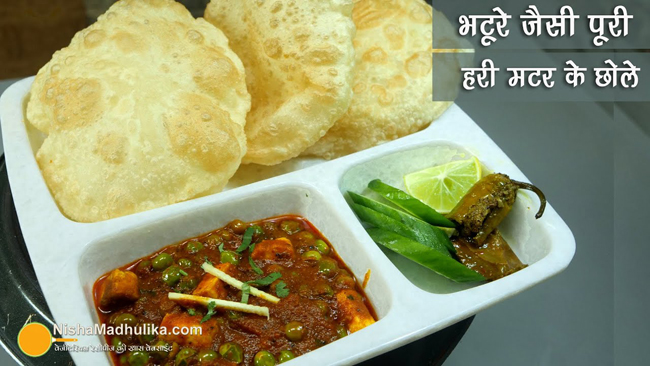 Every day it feels like eating something special, but not everyday we can eat a special dish. So today we will make something new apart from the same food everyday. Green peas chole made with puris which will be like bhature. They will be amazing in taste and at the same time it will be very easy to make them. So whenever you feel like eating something new or eating something different, you must make it and eat it.
Ingredients for Matar Chole and Poori
For Dough
Refined Flour - 2 cups (260 grams)
Salt - ½ tsp
Oil - 4 tsp
Sugar - 1 tsp
For Matar Chole
Oil - 3 tbsp
Cumin Seeds - ½ tsp
Pomegranate Seeds - ¾ tsp
Turmeric Powder - ½ tsp
Coriander Powder - 2 tsp
Ginger - 8-10, finely chopped
Tomato - 3
Ginger - ½ inch
Green Chilli - 2
Red Chilli Powder - 1.5 tsp
Peas - 1.5 cups
Salt - 1 tsp
Roasted Cumin Powder - ½ tsp
Garam Masala - ¼ tsp
Coriander Leaves - 1-2 tbsp
Paneer - 50 grams
Oil for Frying
Process of making dough
In a bowl add 2 cups (260 grams) of all purpose flour, ½ tsp of salt, 2 tsp of oil and 1 tsp of sugar (this will make the puris crispy and the color will be good) and mix them. Now add hot water little by little and knead a soft dough. If the flour sticks to the hand while kneading, then take some oil and mash it till it becomes soft. Then cover it and let it set for 20 minutes, it will swell and set.
Process of making Matar Chole Curry
Heat 3 tbsp of oil in the pan. Then put ½ tsp of cumin and ¾ tsp of pomegranate in it and reduce the flame to low while stirring it a little. Now add ½ tsp of turmeric powder and 2 tsp of coriander powder and fry it lightly. Then make a paste of 3 tomatoes, 2 green chilies and ½ inch of ginger and add it.
Now turn up the flame to medium and add 8-10 pieces of ginger and 1.5 tsp kashmiri red chilli. Fry while stirring the spices till it leaves oil. Then after it is lightly roasted, add 1.5 cups of green peas and mix it well. Then add 1 tsp of salt and ½ tsp of roasted cumin powder and mix it. Now cover them and cook on low-medium flame for 4-5 minutes.
After the time is up, cover them and cook them for 4-5 minutes. When the oil is released from the spices, add as much water as you want to make the gravy as thick or thin as you want. Then mix it and add ¼ tsp of garam masala, 1-2 tbsp of green coriander and 50 gm of paneer chopped into small pieces.
Mix them well, cover and cook for 2-3 minutes. When the time is up, the matar and paneer curry will be ready. Take it out in a bowl and keep it.
Process of making Poori
Take some oil on your hand and mash the dough and make balls out of it. Now apply some oil on the rolling pin and chuckle to roll it, mash a ball and roll it like a peda. Remember, the dough has to be rolled as thin as the poori.
Now heat oil in a pan, the oil should be hot enough to fry the pooris. Now put a poori in a pan for frying and fry it till light golden spots appear from both the sides. In this way puri like bhature will be ready.
Serve bhature-like puris with matar ke chole and paneer chilli pickle. Make the family or guests enjoy this delicious meal for breakfast.
Suggestions
The dough for poori has to be soft as it is made for paratha.
Delhi Special Fresh Matar Chola & Poori Recipe

Tags
Categories
Delhi Special Fresh Matar Chola & Poori Recipe
Nisha Madhulika
Rating:

5.00

out of

5