Bihari Thekua recipe with jaggery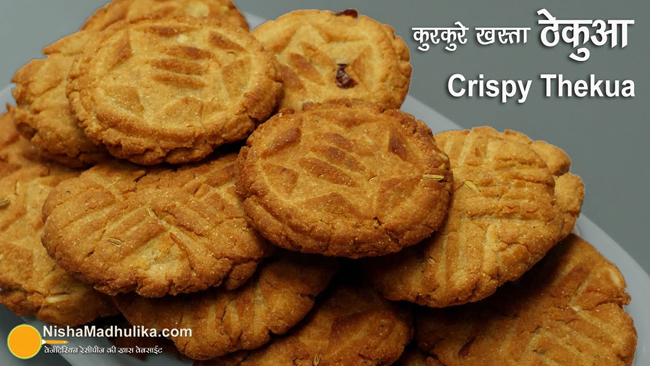 Today we are going to make Thekua on this auspicious occasion of Chhath Puja. It is a special sweet of Chhath, it is offered to God in worship and is also distributed in Prasad. Every year our mother and grandmother make this and feed it to her children by offering it to God. Today we will make Thekua in two ways; One will be with the help of mold and one without the help of mold. Both are very easy to make and the ingredients for these are also available in your kitchen.
Ingredients for Thekua
Jaggery - ½ cup (130 grams)
Semolina - ½ cup (90 grams)
Wheat flour - 2 cups (300 grams)
Fennel seeds - 1 tsp
Almond flakes - 1 tbsp
Raisin - 1 tbsp, chopped
Dry coconut - 2 tbsp, grated
Green Cardamom - 4, coarsely ground
Ghee - ¼ cup (60 ml)
Ghee or oil for frying
Process of making Gur-Sooji mix
Put ½ cup of jaggery (finely crumbled) and ¼ cup of water in a pan and cook till the jaggery dissolves in water. Keep stirring it occasionally so that it does not stick to the bottom of the pot. After the jaggery dissolves well in the water, turn off the flame, cool it slightly and filter it in a bowl and take it out. Add ½ cup of fine semolina to the jaggery solution and mix it to make a batter. Jaggery-semolina batter will be ready for Thekua.
Process of making dough for Thekua
In a bowl add 2 cups of wheat flour, 1 tsp of fennel, 1 tbsp of finely chopped almonds, 1 tbsp of chopped raisins, 2 tbsp of grated coconut, 4 coarsely crushed small cardamom and ¼ cup ghee and mix them well. Mix everything well, add jaggery-semolina solution to it and knead a hard dough. Now add some milk to it and knead it, so that the dough starts binding. After kneading, keep it covered for 10 minutes.
Process of making Thekua by a sancha
Break a small piece of dough and make it round. Keep the dough on top of the mold and press it, its impression will come on the dough. Thekua will be made with the help of mold. Similarly make some thekua.
Process of making Thekua without a sancha
Take a piece of dough, mash it with your hand and make it round. Then press it and enlarge it slightly and make a design by pressing its side with the help of a forked spoon. In this way thekua will be made without the help of mold. Make the rest of thekua in the same way.
Process of frying Thekua
Heat the oil in a pan on medium heat, keep the flame medium. When hot, put as many thekuas in the pan and cook it for 1-1.5 minutes. After the time is up, turn them and fry them till they become golden brown. Fry the rest of the thekuas in the same way. Thekuas will be ready.
Suggestions
Thekua dough should be very hard.
Measure the jaggery and take jaggery of the quantity of flour.
Oil should be medium hot while frying thekua.
Bihari Thekua recipe with jaggery

Tags
Categories
Bihari Thekua recipe with jaggery
Nisha Madhulika
Rating:

5.00

out of

5