Farsan Dry Masala Kachori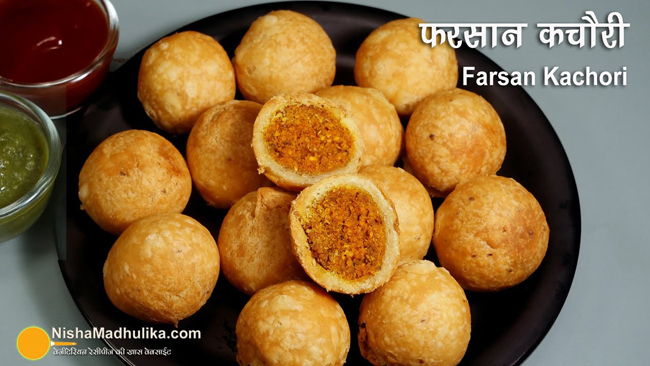 Farsan Kachori is a famous kachori of Gujarat and Maharashtra. This is a dry kachori and you can keep it for a long time and eat it. If you are going on a trip or going on a picnic with the family, then you can make these kachoris and take it.
Ingredients for Farsan Kachori
Refined Flour - 2 cups (250 grams)
Salt - ½ tsp
Carom Seeds - ½ tsp
Oil - ¼ cup (60 ml)
Coriander Leaves - 1 tbsp
Fennel Seeds - 1 tbsp
Cloves - 2
Black pepper - 10-12
Black Cardamom - 1
Cumin Seeds - 1 tsp
Sesame Seeds - 1 tbsp
Farsan Papdi - 1 cup
Besan Bhujia - ½ cup
Peanuts - 2 tbsp, roasted
Cashew - Cashews - 2 tbsp
Salt - ½ tsp
Turmeric - ½ tsp
Red Chilli - ½ tsp
Dry Mango Powder - ½ tsp
Tamarind Chutney - 2-3 tsp
Oil for cooking
Process of making dough
Mix 2 cups of all purpose flour, ½ tsp of salt, ½ tsp of carom seeds (crush it a little in the palm) and ¼ cup of oil in a bowl. Now add water little by little and make a soft dough. After kneading, keep the dough covered for half an hour.
Process of making Stuffing
Take 1 tbsp of whole coriander, 1 tbsp of fennel, 2 cloves, 10-12 black peppers, peel 1 large cardamom in a pan and add 1 tsp of cumin seeds and fry all the whole spices. After frying a little, when the color of the spices changes, take them out on a plate, remember to keep the flame low-medium only. After taking out the spices, put 1 tbsp of sesame seeds in the pan and fry them till they change color and put them in the same plate.
Now put 1 cup of farsan, ½ cup of gram flour, 2 tbsp of peanuts (peeled and roasted) and 2 tbsp of cashews in a mixer jar and grind the whole mixture lightly. Take out this powder in a plate and put roasted whole spices, roasted sesame seeds, ½ tsp of salt, ½ tsp of turmeric, 1.5 tsp of red chilli and ½ tsp of dry mango powder (amchur) in that jar. You can also take chaat masala instead, and after taking chaat masala, salt has to be added a little and grind it lightly.
Mix the ground spices with the same powder in a bowl. To bind the mixture of powder and spices, add 2-3 tsp of tamarind chutney (you can also use tomato sauce instead). Mix this mixture well, it will give a sour sweet taste to the stuffing. When the stuffing starts binding, lift the stuffing little by little and make small balls. Make small balls of all the stuffing and keep them in a plate.
Process of making Kachori
Make small balls by mashing the dough well. Only a little bigger balls have to be made than the amount of stuffing. To prepare the filling of the kachoris, make a round ball. Now press it and make a peda and give it the shape of a bowl, then by keeping the stuffing in the middle, press it lightly and close it and give it a round shape. Prepare all the balls in the same way by filling them.
Now heat oil in a pan, remember to heat the oil lightly and keep the flame low. Put the kachoris in oil and fry them on low flame for 4-5 minutes. When bubbles come well, roast the kachoris on low flame, stirring occasionally, till they turn golden brown. Similarly fry the rest of the kachoris as well. Crispy and delicious Farsan Kachoris will be ready.
Suggestions
While making kachoris, keep the flame very low or else the kachoris will not turn crispy.
These kachoris can be kept for 2 months.

Tags
Categories
Farsan Dry Masala Kachori
Nisha Madhulika
Rating:

5.00

out of

5