Delhi Special Cheese Bread Rolls Recipe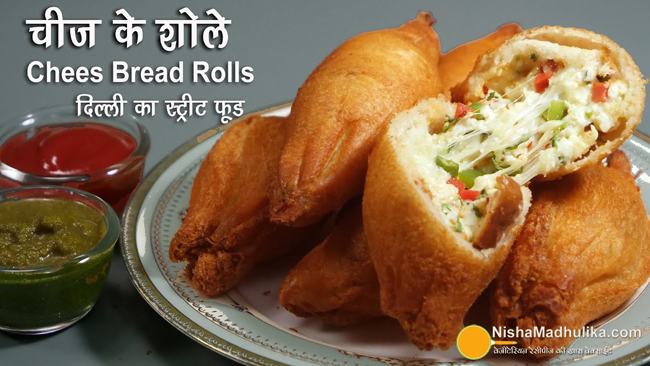 Cheese Sholay is a famous street food recipe of Delhi. It is made from different types of stuffing and it is very tasty to eat. Today we are going to make bread stuffed with cheese. It will have cheese along with paneer and some vegetable spices. Their special thing is that if all the family members are coming to your house, then a day before you can assemble them and keep them in the fridge. Then on the second day when everyone comes, fry it immediately and serve it hot.
Ingredients for Cheesy Paneer ke Sholey
Cheese - 1 cup (125 grams)
Paneer - 1 cup (125 grams)
Capsicum - ¼ cup, finely chopped
Carrots - ¼ cup, finely chopped
Green Chilli - 2 finely chopped
Ginger - ½ tsp, grated
Salt - ⅓ tsp
Chilli flakes - ¼ tsp
Coriander Leaves - 2 or 3 tbsp
Refined Flour - 2 tbsp
White Bread - 12 slices
Oil for frying
Process of making stuffing
In a bowl put 1 cup (125 g) of mozzarella cheese, 1 cup (125 g) of grated paneer, ¼ cup of finely chopped capsicum, ¼ cup of finely chopped carrot, 1 tsp of finely chopped green chilli, ½ tsp of grated ginger, ⅓ tsp of salt, ¼ tsp of chilli flakes and 2-3 tbsp of green coriander. Now mix them well, the stuffing will be ready.
Also, in a bowl, add a little water to 2 tbsp of all purpose flour and make a slurry until it becomes smooth. This is called slurry, it will be used to stick the bread.
Process of assembling Bread Rolls
Take two slices of bread, cut one of them on the opposite sides of the bread. Now apply some water on it and roll it with a rolling pin. Remember, fresh bread has to be taken, otherwise it may break while flattening with a rolling pin. After rolling once again after applying some water, roll the second one by applying water in the same way.
Now place the sliced ​​bread first while lowering the side on which the water was applied on a foil. Then put a little slurry on the top edge of it and stick the other bread on top of it. Now place the stuffing on the top bread and apply some slurry on the sides of the bread.
By applying slurry on all three corners, lift the foil and roll the bread. While rolling, remove the foil and roll it completely, then stick it by pressing it in the foil from both the corners and press the corners with a little effort. Assemble the rest of the Sholays in the same way.
Process of frying Bread Rolls
Heat oil in a pan, the oil should be medium-high hot and flame should be medium. When hot, add sholas one by one and fry them. Fry them while turning them till they turn golden brown from all sides. Then take it out and fry the rest in the same way, Bread Cheese Sholay will be ready. Serve them to the guests or family members with green chutney and sauce and enjoy their taste.
Suggestions
While assembling the bread sholay, roll the bread and press it well from the corners.
The oil should be medium hot for frying.
Delhi Special Cheese Bread Rolls Recipe

Tags
Categories
Delhi Special Cheese Bread Rolls Recipe
Nisha Madhulika
Rating:

5.00

out of

5