Nagpur Special Pudachi Kothimbir Vadi Recipe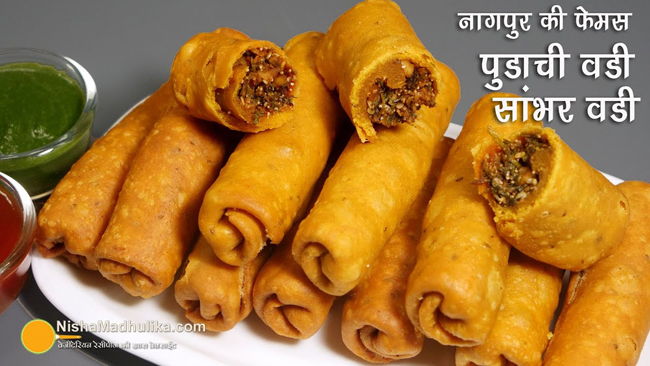 Sambar Vadi is a very famous street food dish of Vidarbha. The stuffing of Sambar Vadi is the specialty of this dish, it has all three types of tastes, sour, sweet and pungent. It is also very tasty to eat. Today we will make Sambar Vadi with this taste, it is very easy to make. You will taste the famous street food of Nagpur just sitting at home.
Ingredients for Sambar Vadi
Refined Flour - 1 cup (130 grams)
Gram Flour - 1 cup (125 grams)
Salt - ½ tsp
Turmeric Powder - ½ tsp
Red Chilli Powder - ½ tsp
Ajwain Carom Seeds - ½ tsp
Oil - ¼ cup (60 grams)
For Stuffing
Oil - 1 tsp
Cumin Seeds - 1 tsp
Ginger - 1 inch
Green Chilli - 2
Poppy Seeds - 1 tbsp
Sesame Seeds - 1 tbsp
Coconut - ¼ cup, grated
Peanut - ¼ cup, coarsely ground
Coriander Powder - 1 tsp
Red Chilli Powder - ½ tsp
Cumin Powder - ½ tsp
Garam Masala - ½ tsp
Salt - ¾ tsp
Dry Mango Powder - ¾ tsp
Sugar - 1 tsp
Coriander Leaves - 100 grams, finely chopped
Oil for frying
Process of making dough
Take 1 cup of all purpose flour and 1 cup of gram flour in a bowl and make a small space in the middle. Then add ½ tsp of salt or as per taste, ½ tsp of turmeric, ½ tsp of red chilli powder, ½ tsp of carom seeds (crushed in the palm) and ¼ cup (60 grams) of oil after heating. Now mix them with the help of a spoon, after the oil cools down, mash them well with your hands and mix them. After mixing, add a little water to it and knead a light hard dough, then cover it and keep it for 20 minutes.
Process of making stuffing
Put 1 tbsp of oil in a pan and heat it on low flame. Add 1 tsp of cumin, ginger green chili paste (1 inch ginger and 2 green chilies), 1 tbsp poppy seeds and 1 tbsp white sesame seeds and fry them in hot oil. When roasted, add ¼ cup of grated coconut and ¼ cup of roasted coarsely ground peanuts and fry while mixing.
After roasting for minutes, add 1 tsp of coriander powder, ½ tsp of red chilli, ½ tsp of roasted cumin powder, ½ tsp of garam masala, ¾ tsp of salt, ¾ tsp of amchur powder and 1 tsp of sugar. Now mix them well and fry till the aroma comes. After the spices are roasted well, add 100 grams of green coriander (washed and cut and dried thoroughly) in it. Now roast the coriander till it mixes well, then take it out and cool it. In this way the stuffing for Sambar Vadi will be ready.
Process of assembling Sambar Vadi
Take some oil in hand, crush the dough and break it into small balls. Now take out one ball and cover the rest. Make a peda by making this ball round, then roll it a little thin from the whole. Keeping 2 spoons of stuffing on it, stuffing is to be kept in a light long oval shape. Now roll it by turning a little from the edges, then apply a little water on the last end and roll it while sticking it. Now make it uniform by pressing lightly. Similarly assemble the rest.
Process of frying Sambar Vadi
Heat oil in a pan on low flame, remember oil should be medium hot. When hot, put as many sambar vadis as you can in one turn. When they are lightly roasted from under them, turn them and fry them till they become nice golden brown from all sides. They have to be stirred continuously because they have to be roasted from all sides, as well as after 5-6 minutes when they become light golden, turn up the flame lightly and fry them till dark golden brown. Then take them out and fry the rest in the same way, Sambar Vadi will be ready.
Traditionally in Nagpur, Sambar Vadi is served with curry curd. You can also serve it with red chutney and green chutney. Serve Sambar Vadi and enjoy its taste.
Suggestions
The dough has to be kept a little hard.
The poori has to be rolled thin and after filling the stuffing, make sure to stick the roll with the help of water.
The oil should be medium hot while frying and the flame should be very low. Fry for 5-6 minutes on low flame and then fry for 1-2 minutes on high flame.
Nagpur Special Pudachi Kothimbir Vadi Recipe

Tags
Categories
Nagpur Special Pudachi Kothimbir Vadi Recipe
Nisha Madhulika
Rating:

5.00

out of

5