Amaranth Saag Recipe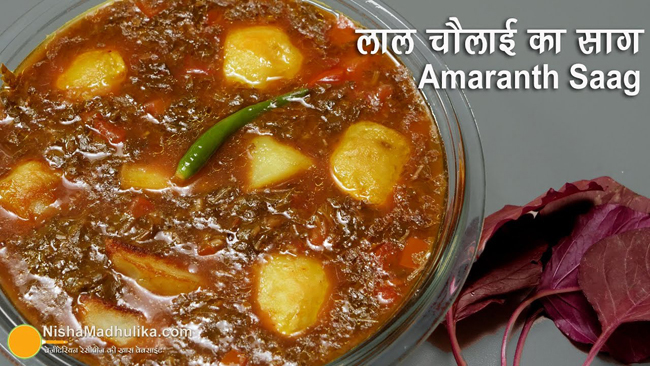 Amaranth is very beneficial for health, and the greens made from it are even more delicious. Today we are going to make Aloo Lal Chaulai green which is very easy to make. Chaulai is made only in the winter season and two types of amaranth are available in the market, a red amaranth and a gray amaranth. Both are delicious in food and both are very beneficial for health.
Ingredients for Amaranth Saag
Amaranth Leaves - 500 grams
Green Chilli - 5 finely chopped
Ginger - 1.5 inch grated
Salt - 1.5 tsp
Wheat flour - ¼ cup
Tomato - 2 (100 grams)
Potato - 3 Boiled (150 g)
Ghee - 2 tbsp
Cumin seeds - 1 tsp
Asafoetida - 2 pinch
Process of making Amaranth Saag
After cleaning 500 grams of amaranth thoroughly, remove their thick sticks, wash them 2-3 times in maximum water and keep them. After this, dry them till some water dries up. After drying, take some amaranth leaves, cut them from the middle and cut them together finely. In a cooker, put chopped amaranth, 5 finely chopped green chilies, 1.5 inch of grated ginger and to add a thin solution in it, make a thin solution of ¼ cup of flour in water.
Now add 2 cups of water, 1.5 tsp of salt and mix it well. Cook the greens on high flame till one whistle. Meanwhile, remove the middle part of 2 tomatoes and cut them into small pieces. After a whistle, reduce the flame to low and cook the greens till 5 whistles.
After 5 whistles, turn off the gas and keep the cooker to cool down. Then put 2 tbsp of ghee in a pan and heat it. When the ghee is hot, put 3 boiled potatoes (cut the potatoes into 4 pieces) and fry the potatoes from all sides till they turn brown. After roasting, take out the potatoes on a plate. Leave the remaining ghee in the pan for tadka.
Heat the ghee kept in a pan, add 1 tsp of cumin and 2 pinch of asafoetida. Fry the spices on low flame and add chopped tomatoes to it. When lightly roasted, make a slight incision in 2 green chilies and fry them by putting them in it. When the tomatoes are lightly cooked, turn off the flame and pour the tadka into the vegetable.
Take out the greens in a bowl and put the fried potatoes on top. In this way, Aloo Lal Chaulai Saag will be ready, enjoy its taste.
Suggestions
The amaranth has to be cut very finely.
If you do not want to add tomatoes in the tadka, you can also remove it.

Tags
Categories
Amaranth Saag Recipe
Nisha Madhulika
Rating:

5.00

out of

5