Palak Chana Dal Tadka Recipe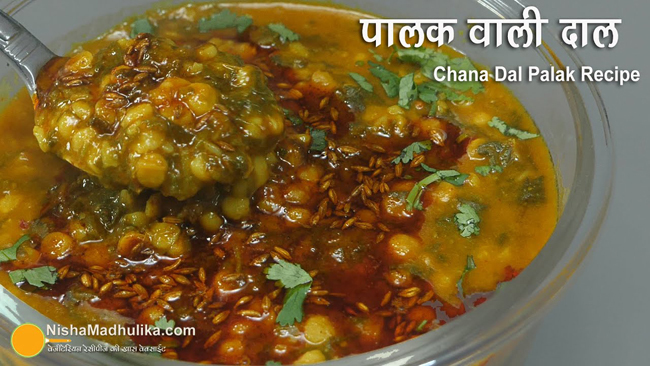 Spinach Chana Dal Tadka is a very tasty dal. It is very easy to make and after knowing this special recipe, you will definitely like to make it once a week. The taste of palak chana dal with tadka is absolutely wonderful. Apart from being delicious, it is also very beneficial for health, as well as its ingredients will also be found in your kitchen.
Ingredients for Palak Chana Dal
Split Chickpeas - ½ cup (100 grams)
Urad Dal - 1.5 tbsp
Spinach - 2 cups (250 grams)
Salt - ¾ tsp
Desi Ghee - 1 tbsp
Bay Leaf - 1
Cinnamon - 1 inch
Black Cardamom - 1
Cloves - 3
Black Pepper - 6
Cumin Seeds - ½ tsp
Asafoetida - ½ pinch
Turmeric Powder - ½ tsp
Coriander Powder - 1 tsp
Tomato - 2 (150 g)
Ginger - ½ inch
Green Chilli - 2
Red Chilli - ¼ tsp crushed
Salt - ¼ tsp
For Tadka
Desi Ghee - 1 tbsp
Cumin Seeds - ¼ tsp
Kashmiri Red Chilli Powder - ⅛ tsp
Process of making Palak Chana Dal
Soak ½ cup of chana dal in water overnight. Then wash and put the gram dal and washed urad dal in the cooker. Now add 2 cups of finely chopped spinach (spinach can be more or less), 1.5 cups of water and ¾ tsp of salt and mix the mixture well. Add less water or else the water will start to come out during the whistle.
Cook on high flame till one whistle, then reduce the flame to low and cook the dal for 5 minutes. When the time is up, turn off the flame and let the pressure of the cooker come out. Put 1 tbsp of ghee in a pan and heat it. When hot, add 1 bay leaf, 1 inch of cinnamon, 1 big cardamom (peeled and put its seeds), 3 cloves, 6 black pepper, ½ tsp of cumin, ½ pinch of asafoetida, ½ tsp of turmeric and 1 tsp of coriander powder and fry it well. Remember, to keep the flame low or else the spices will get burnt.
After this, add ½ inch of ginger, 2 big green chilies and 2 tomato paste in it. Then add ¼ tsp of red chili and fry the whole spice well while stirring it once in a while on low flame. After the spices are roasted well, add cooked spinach dal and ¼ tsp of salt and mix it well. Cover the dal and cook for 2 minutes, the dal will be ready.
Process of making Tadka for Dal
Heat 1 tsp of ghee in a tadka pan. When hot, add ¼ tsp of cumin seeds to it and roast it, when cumin seeds start roasting, turn off the flame and add ⅛ tsp Kashmiri red chilli and mix the tadka. After mixing, pour this tadka over the dal. Spinach Chana Dal Tadka is ready. Serve it with naan, roti or rice and enjoy the taste.
Suggestions
Soak chana dal overnight so that it becomes soft.
You can add water to the lentils according to your choice, if you like juicy lentils, then add a little more and if you like thick, then less.

Tags
Categories
Palak Chana Dal Tadka Recipe
Nisha Madhulika
Rating:

5.00

out of

5