Mango Pickle with asafoetida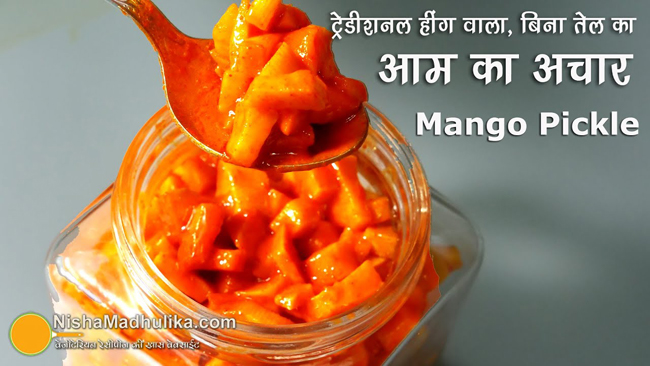 Mango pickles are the most delicious in the summer season. By the way, mango pickle is liked by many people in every season. This pair of mango pickle with vegetable roti or lentil rice can never be broken. Keeping this in mind, today we are going to make mango pickle. The method of making it is very easy and after making this pickle once, you can keep it and eat it for a long time.
Ingredients for Mango Pickle with asafoetida
Raw Mango - 2 (500 grams)
Salt - 2 tbsp
Turmeric Powder - 1 tsp
Black Salt - 1 tsp
Asafoetida - ¾ tsp
Kashmiri Red Chilli - 1 tbsp
Mustard Oil - 2 tbsp
आम का हींग वाला आचार बनाने की विधि Process of making Mango Pickle with asafoetida
Wash and peel 2 raw mangoes. Then cut them into small pieces. Put chopped raw mangoes and 2 tbsp of salt in a glass bowl and mix well. Now keep them covered for 4 days, but remember that it is necessary to open them daily and stir them once.
Raw mangoes will become soft after 4 days. Now stir them one by one and add 1 tsp of turmeric, ¾ tsp of asafoetida powder, 1 tsp of black salt and 1 tbsp of kashmiri red chilli. Mix them well. Asafoetida pickle without oil will be ready, keep it for 2 days and then serve it with vegetable, roti or dal rice and enjoy its taste.
But if you still want to add a little oil, then put 2 tbsp of mustard oil in the tadka pan and heat it. When it becomes hot, cool it and put it in the mango pickle, it will be ready. Keep it for 2 days and then serve it.
Suggestions
When the mango pickle is made and put in a container, wash it with hot water and dry it well in the sun, this eliminates all the moisture inside it.
Mangoes should be perfect.
All the utensils in which mangoes are kept should be clean and dry, there should be no moisture in the pickle.
When taking out the pickle for eating, the spoon and your hands should be clean and dry.

Tags
Categories
Mango Pickle with asafoetida
Nisha Madhulika
Rating:

5.00

out of

5