Sago Fruits Pudding Recipe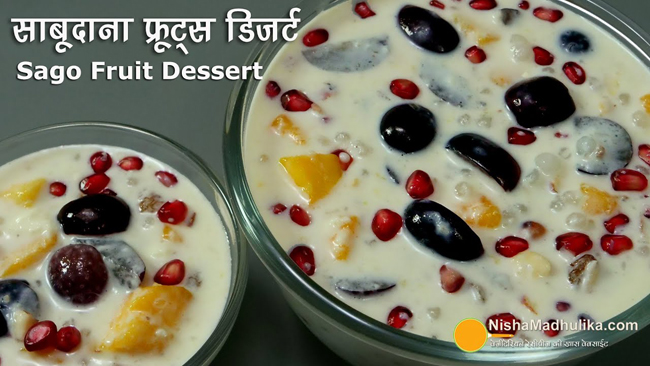 Sabudana fruit dessert is just like kheer. It is very easy to make and it is also very beneficial for health. You can make and eat it during fasting as well. All the ingredients to make Sabudana Fruit Dessert will be available in your kitchen. So you also make Sabudana Fruits Dessert and eat it and enjoy a delicious dessert.
Ingredients for Sago Fruit Dessert
Sago - ½ cup (100 grams)
Full Cream Milk - ½ liter
Mango - 1 (250 g)
Black Grapes - 100 grams
Pomegranate seeds - ½ cup
Condensed Milk - ½ cup
Almond - 2 tbsp, chopped
Cashew - 2 tbsp, chopped
Raisins - 2 tbsp, chopped
Cardamom - 4, coarsely ground
Full Cream Milk - ½ cup (to be added later in desserts)
Process of boiling Sago
Wash and cover ½ cup of medium sized sabudana and keep it soaked in water for 1 hour. When the time is up, put 2 cups of water in the pot and boil it. When it comes to a boil, add sabudana and cook till it becomes transparent. Remember, they have to be kept running and they do not have to be covered completely, they have to be kept open a little. When they are cooked well and when they become thick, take them off and keep them to cool down.
Process of boiling milk
Boil ½ liter of full cream milk in a wide pan. When it comes to a boil, cook it while stirring till it becomes thick, cook it till it becomes half. When the milk becomes thick, take it out in a bowl and cool it.
Process of making Sago Fruits Pudding
Cut 1 mango into small pieces. Also, cut 100 grams of grapes into 4 parts if they are big and into 2 parts if they are small. Now in a big bowl add condensed milk, boiled sago and ½ cup of condensed milk (if you do not eat condensed milk during fasting then add ½ cup of sugar powder instead).
Mix them well, then add chopped mangoes, grapes, some pomegranate seeds, 2 tbsp of chopped cashews, 2 tbsp of chopped almonds, 2 tbsp of raisins and 4 small cardamoms coarsely crushed and mix it well. If it looks a little thick, then you can add a little bit of cooled milk after boiling it. Sabudana Fruits Dessert will be ready.
Suggestions
While cooking milk and sago, keep stirring it for a while.
You can serve them like this or keep them in the fridge and serve them cold.

Tags
Categories
Sago Fruits Pudding Recipe
Nisha Madhulika
Rating:

5.00

out of

5