Spicy and Crispy Banana Tawa Fry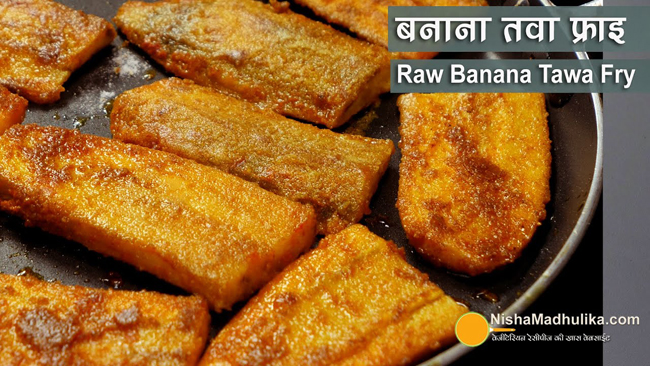 Banana Fries are very tasty and spicy. They get ready very quickly. They are served as a snack with tea or even with food. Its taste is very different and good. It is very easy to make and it does not take much time to make. So if you want a different and spicy taste, then definitely make it and serve it to family members and guests and give them a sizzle.
Ingredients for Raw Banana Tawa Fry
Raw Banana - 2 (300 g)
Salt - ¾ tsp
Kashmiri Red Chilli - 1 tsp
Turmeric Powder - ½ tsp
Coriander Powder - 1 tsp
Cumin Powder - ½ tsp
Garam Masala - ¼ tsp
Lemon Juice - 1.5 tsp
Rice Flour - 3-4 tbsp
Oil - 2-3 tsp
Process of making Spicy Banana Fries
Wash and peel 2 raw bananas and cut them lengthwise and make slices. Put all the banana slices, then add ¾ tsp of salt, 1 tsp of kashmiri red chilli, ½ tsp of turmeric, 1 tsp of coriander powder, ½ tsp of cumin powder, ¼ tsp of garam masala and 1.5 tsp of lemon juice in a bowl. Now mix them well and coat them on the banana slices. Then cover and keep it for 10 minutes.
When the time is up, take out the rice flour on a plate. Now cut all the banana slices in half and wrap them in rice flour and keep them on a plate. All the slices are to be coated well with rice flour. After this, heat the tawa, pour 2-3 tsp of oil on it and heat it.
Then put as many slices as you can on the pan, roast them on low-medium flame for 2 minutes. After the time is up, pour some oil on them from above and bake them again for 2 minutes. Roast them from both the sides till they become slightly crisp, then take them out and roast the rest in the same way. Tasty and spicy banana fries will be ready. Serve them and enjoy their taste.
Suggestions
While roasting the banana slices, keep the flame low-medium and fry from both the sides till they turn golden brown.
Spicy and Crispy Banana Tawa Fry

Tags
Categories
Spicy and Crispy Banana Tawa Fry
Nisha Madhulika
Rating:

5.00

out of

5