Delhi Special Spicy Masala Fries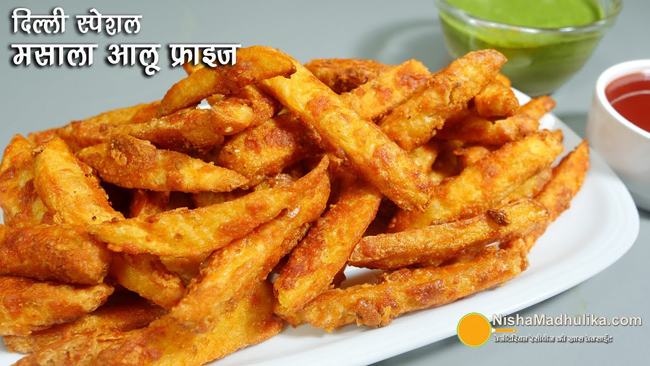 Everyone is fond of french fries. That's why today we will make Masala Finger Fries, giving a different and spicy taste. There will be more spices in it along with salt, we will prepare them by making them crunchy. After making fries with this recipe, you will start finding it more delicious than outside with plain salt. This is a special recipe from Delhi and you will get a special taste of Delhi.
Ingredients for Spicy Potato Fries
Potato - 4 (300 g)
Salt - ¾ tsp
Red Chilli Powder - 1 tsp
Coriander Powder - 1 tsp
Carom Seeds - ½ tsp
Ginger Chilli Paste - 1 tsp
Arrowroot or Corn flour - 4 tbsp
Oil for frying
For Chutney
Coriander Leaves - 100 grams
Green Chilli - 2
Ginger Baton - ½ inch
Salt - ¼ tsp
Black Salt - ½ tsp
Roasted Cumin - ½ tsp
Curd - ¼ cup
Process of cutting Potatoes
Peel 4 potatoes, wash them well and dry them. Now cut them into long and thin pieces. Put them in a bowl, then add ¾ tsp of salt, 1 tsp of red chilli powder, 1 tsp of coriander powder, ½ tsp of carom seeds (crush and put it in) and 1 tsp of ginger-green chilli paste. Now mix all these well and coat the spices well on the potatoes. After mixing, add 4 tbsp of arrowroot or cornflour and coat it well on the potatoes. If it is less, then add a little more and mix. In this way the potatoes will be ready after being cut and coated.
Process of frying Masala Fries
Heat oil in the pan, oil should be hot enough for frying the fries. When hot, put some fries in it and fry for 2 minutes. After the time is up, fry them while stirring them till they become golden brown. After frying, take them out on a plate and cool them.
Process of making Curd Green Chutney
In a mixer jar, add 100 grams of coriander (chopped coarsely, if not, then add less first), 2 green chilies, ½ inch of ginger, ¼ tsp of plain salt, ½ tsp of black salt, ½ tsp of roasted cumin and ¼ cup of curd. Now grind it and if some green coriander is left, then put it back and grind it. Curd green chutney will be ready.
Process of frying fries second time
Frying the fries again makes them crispy. After adding some fries, fry them for 2-3 minutes and take them out and put the rest in the same way and fry them for 2-3 minutes. In this way masala fries will be ready. Serve them with green chutney with curd and enjoy their taste.
Suggestions
When you add spices to the potatoes, mix them accordingly. If you eat spicy then add more chili, if you eat less spicy then add less.
While frying the fries, keep in mind that the oil is hot enough.
When frying the fries for the first time, fry for 5-6 minutes and in the second turn fry for 2-3 minutes.
Fry them once and eat them after frying them again whenever you want to eat throughout the day.
You can eat them by frying them in the fridge for 2 days at any time.
Delhi Special Spicy Masala Fries

Tags
Categories
Delhi Special Spicy Masala Fries
Nisha Madhulika
Rating:

5.00

out of

5